Architecture hopping!
4-hour Tour by Chartered Taxi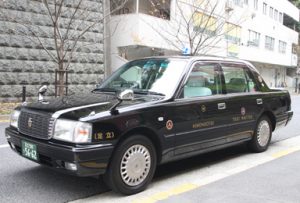 Welcome to Japan and Tokyo!
As  you know, Tokyo is the capital of Japan and is one of the most interesting and fascinating cities in the world.  You can see various kinds of modernized high-rise buildings and historical sites at the same time.
Course 1: Ueno, Asakusa, Ginza and Marunouchi Areas
Course 2: Marunouchi, Ginza, and Omote-sando Areas
In Tokyo, there are many world-famous buildings which have high architectural technologies.  In the following two courses of 4-hour tour, we introduce the architectural works from which you understand modern and contemporary Japanese architectural development since the corruption of the feudal military government in the mid-19th century. Until then, Japanese buildings had been constructed by traditional carpenters like many buildings of shrines and temples including five-story pagodas both in Kyoto and Nara.  But after the Meiji Restoration in the mid-19th century, the modernized European way of architecture was introduced and gradually a great many young professional architects mastered it and started to design modernized buildings both in Japan and in the world.  It is not only just to copy the European style of architecture but add something special to apply typical Japanese lives, culture and taste in cooperate with nature.  
We hope you have a chance to understand Japanese culture and spirit through visiting around many special buildings which have some typical Japanese charm.
You will be introduced and met by the English (or the other language) speaking National Government Licensed Guide Interpreters who have studied and trained special architectures by the professional designer before. 
Why not come and join our tours and we are sure you will be satisfied to get enough information in various fields of Japanese culture and tastes!
Course 1: Ueno, Asakusa, Ginza and Marunouchi Areas
Course 2: Marunouchi, Ginza, and Omote-sando Areas
Booking
Please fill in the below form, then send to us.
Payment
Payment is able to be settled by credit card (Paypal).
After your booking, we will send you an invoice, then after your payment by credit card, the booking would be completed.

Contact
If you have any questions or offer to book, please send a email. We welcome even tiny questions! Don't hesitate, and see you in Japan!!
Contact to us:   info@i-travel-square.tokyo