S-43 Hieizan & Ishiyamadera temple
historical walking in Shiga, Lake Biwa
(March – December)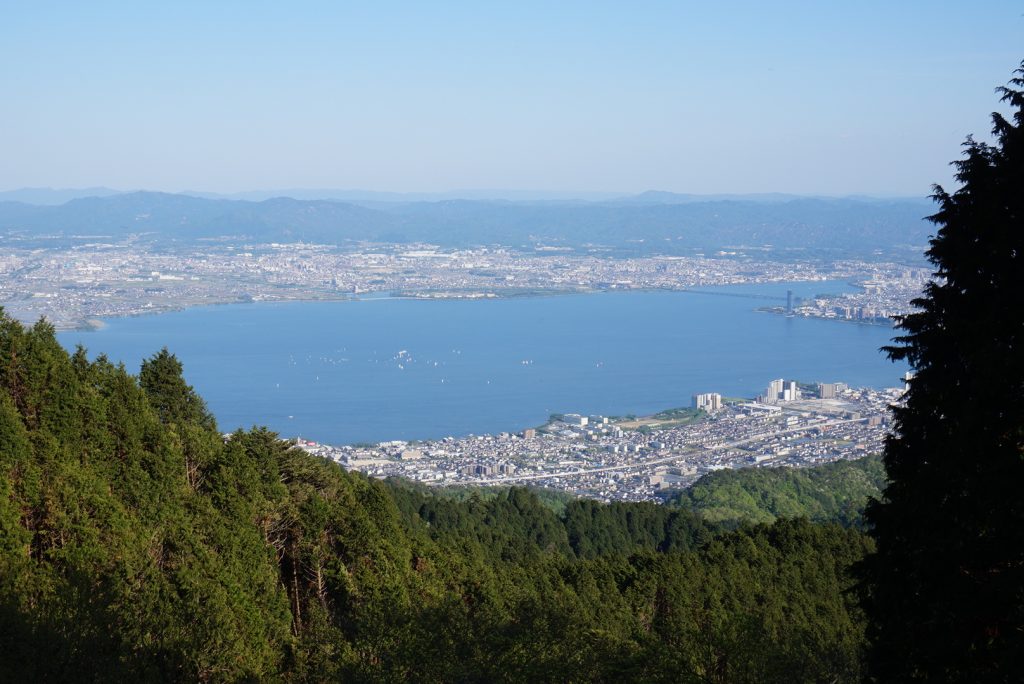 Hieizan (Mt. Hiei) 

UNESCO World Cultural Heritage
Mt. Hiei  stands on the border between Shiga and Kyoto prefectures. The magnificent Mt. Hiei, standing 848 meters tall and with five distinct peaks, has been worshipped as a spiritual mountain since ancient times. When Saicho, the founder of the Tendai sect of Buddhism, opened Enryakuji Temple in the eighth century, the entire mountain became one large training site for the spiritual protection of the nation. Many of the monks responsible for the varied sects of Japanese Buddhism started out from here, including Shinran, Dogen, and Nichiren. This has led to Mt. Hiei being called the "the roots of Japanese Buddhism." Many of the temple's buildings are reconstructions from the 16th century or later, but the ten national treasures and more than fifty important cultural assets housed within speak to the rich history and culture of the temple. The view of Lake Biwa from Mt. Hiei is also absolutely spectacular, and has been compared to the pureland where Yakushi, the principle object of worship at Enryakuji Temple, is said to dwell.
Since the founding of Enryakuji Temple 1200 years ago, Mt. Hiei has been isolated from the outside world as a place of spiritual training. This has also served to preserve pure and beautiful nature on the mountainside. Each of the seasons provide dynamic scenery to be enjoyed, from the dazzling fresh green of early summer, to the yellow and crimson leaves that cover the slopes in fall, and the pure veil of silent snow that falls in winter. As this is a place where hunting has been long forbidden, the deep forests are also home to a rich ecosystem, teeming with life. The mountain is especially famous as a breeding ground for birds, and has been stipulated a national natural monument. Meanwhile, Lake Biwa is a world-famous ancient lake, boasting a history of more than four million years. The lake offers a rich ecosystem, with many species endemic to its environs. It is also known as a precious destination for migratory water birds, and is a registered marsh under the Ramsar Convention.
---
Ishiyamadera ( the temple of Sacred Stone)
Ishiyamadera is the thirteenth temple of the Kannon Pilgrimage Site in Saigoku, and is an ancient temple in the lake country that is widely known as the place where Murasaki Shikibu (female writer of the Heian period) devised the concept of "The Tale of Genji".
In the precincts, there is a natural monument "Wollastonite", which is the origin of Ishiyama. Limestone comes into contact with granite protruding from the ground and is altered by its thermal action, and such a magnificent "wollastonite" is extremely rare and valuable.
Above the wollastonite is Japan's oldest "Tahoto"(multi-treasure pagoda) donated by Minamoto no Yoritomo (Shogun = the General of Kamakura period). It is a National Important Cultural Property and a National Treasure, and its graceful appearance has been used in the design of 4-yen stamps in the past.
The main hall is the oldest wooden building in Shiga prefecture. The inner camp was built in the middle of the Heian period, and the outer camp was expanded in 1602 by the donation of Yodo princess. Enshrined in the main hall is the Honzon Nyoirin Kanzeon Bosatsu, who gathers faith as a Kannon of safe delivery, good fortune, and marriage.
This temple is also called a "flower temple", and plums, cherry blossoms, azaleas, irises, and autumn leaves bloom every season to entertain visitors.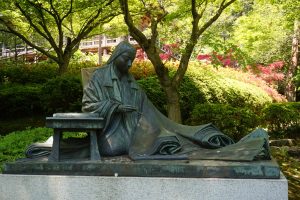 西国三十三所観音霊場の第十三番札所で、紫式部が『源氏物語』の構想を練ったことから、ゆかりの地としても広く知られる湖国の古刹「石山寺」。
花の寺とも呼ばれ、梅・桜・ツツジ・花菖蒲・紅葉などが四季折々で咲き誇り、訪れる人を楽しませてくれます。
石山の由来にもなっている天然記念物「硅灰石(けいかいせき)」。石灰岩が地中から突出した花崗岩(かこうがん)と接触し、その熱作用のために変質したもので、これほどに雄大な「硅灰石」は大変珍しく貴重です。
「硅灰石」の上に見えるのは、源頼朝によって寄進された日本最古の「多宝塔」。国の重要文化財にして国宝でもあり、その優美な佇まいは過去に4円切手のデザインにもなりました。
「本堂」は滋賀最古の木造建築物で、内陣は平安時代中期の建立、外陣は慶長7 (1602) 年に淀殿の寄進により増築されました。本堂内陣に祀られているのは、安産・福徳・縁結びの観音様として信仰を集める本尊 如意輪観世音菩薩。
---
Anou-shu's  Stone Walls
Ishigaki (= stone wall) is one of the characteristics of Japanese castles.
In Sakamoto, the gate town of Enryakuji, there was a group of engineers called Anou-shu, who mainly constructed stone walls for temples and castles. The stone wall by Anou-shu is made by a special technique called "Anou stacking", which skillfully combines unprocessed natural stones,  as symbolized by the oral story telling  "listening to the voice of stones". 
During the Sengoku (Samurai) period, when Nobunaga Oda burned down Mt. Hiei Enkeiji Temple, he was surprised at the robustness of the stone wall, and built Azuchi Castle by gathering the masons (craftsmen) who lived around Sakamoto, Anou, and Shigasato.
Since then, the craftsmen have been called "Anō-shu" and have become known nationwide by working on the construction of castles such as Osaka Castle and Edo Castle.
Currently, it is said that more than 80% of the stone walls of castles nationwide are the hands of Anou-shu.
In these area, the stone walls still create a beautiful landscape.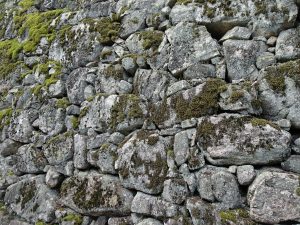 延暦寺の門前町・坂本には、穴太衆と呼ばれる石工集団がいました。穴太衆による石垣は、「石の声を聞け」という口伝に象徴されるように、加工しない自然石を巧みに組み合わせる「穴太衆積み」という技法で作られ、戦国時代には城壁にも用いられました。里坊の町には今も石垣が美しい町の景観を作り出しています。
戦国時代、 織田信長が比叡山延暦寺を焼き討ちにした際、その石垣の堅牢さに驚き、坂本・穴太・ 滋賀里あたりに住んでいた石工職人たちを集めて安土城を築城したほど。
職人たちはそれ以後「穴太衆」と呼ばれ、 大阪城や江戸城などの築城も手がけて全国的に知れ渡る存在になりました。
現在、全国にある8割以上もの城の石垣が、穴太衆たちの手によるものだといわれています。
---
/// FIT package
We can arrange this tour for individual, family, or the small group, following to your designated date, from late March to early December.
/// Itinerary
8:00 Meet at JR Kyoto station, then guide takes you by local train to Ishiyamadera temple. 
Look around Ishiyamadera temple.(2H)
View Points:
●East Main Gate, ●Main Hall, ●Tahoto (multi-treasure pagoda), ●Hojo-den (Murasaki Shikibu exhibition), and the other spots on the temple premises
10:30 Move to Hieizan area, by local train and cable car(12:00), until the way to cable car station,  guide you some Ishigaki (stone walls) spots related to the Sengoku (Samurai) era history.
View Points:
●Shigain-monzeki 滋賀院門跡, ●Jigen-do 慈眼堂, 
●Hiyoshi-Toushougu 日吉東照宮
12:15 Look around Hieizan area, by walk and bus.(3.5H)
You can take lunch at the local diner restaurant around this area.
View Points:
●East area (To-do), ●West area (Sai-to), ●Yokawa area
●Mountaintop Viewing Platform
16:05 At the viewing platform, take the bus to Kyoto
17:20 Arrive at JR Kyoto station, then finish the tour.
8:00京都駅集合、JR京都→石山(240円・新快速13分)・京阪石山→石山寺(170円・4分)
→徒歩10分、8:30-10:30石山寺、散策(2時間)
入山600円、本堂500円、紫式部300円、お茶席500円
石山寺駅→坂本比叡山口駅(34分、330円)
11:10-11:50ケーブルカー乗り場まで、徒歩で散策
・穴太衆の石垣関係(滋賀院門跡、慈眼堂、日吉東照宮など)
12:00ケーブルカー(片道870円)坂本→ケーブル延暦寺(11分)
比叡山散策(4時間)ランチは延暦寺周辺で各自
比叡山内バス1日券(1000円)
・横川エリア、西塔エリア、東塔エリア、
(国宝殿拝観料と巡拝料のセット価格 1500円)
・最後に山頂15:50着のバスが最終
山頂16:05→京都駅17:20・840円(土日は1時間遅いバスもある)
/// Price
Number
of Guests
 1
2
 3
4-5
 6 or more
(Max 10)
Price 
/ person
(Yen)
 89,000
 49,500
 36,000
29,500
 35,500
Price Include:
Transportation (local train, bus, cable car) for guests and guide
English (or other languages) speaking guide
(English, Chinese, French, German, Italian, Spanish, Portuguese, Dutch, Russian, Thai)
Entrance fees described in the itinerary for guests and guide
Commission for arrangements
Commission for settlements by credit card
Consumption tax
Price Exclude:
Transportation costs to the meeting place / ending place
Accommodation costs

Food and beverage

fee for customers and guide
Souvenir fee / personal expenses
Expenses for services not described in the itinerary
Regarding these standard courses, we can arrange the plan upon your request by adding / deleting destinations, and combining other courses before and after, making reservations of accommodation, transportation, restaurants, or event tickets, etc. Please contact us by all means.
Please see here for the arrangement fee.
ex.1 Arrangement for accommodation
Room charge 10,000yen(1night 1person) + Commission 1,650yen(incl. c-tax)=Total 11,650yen 
ex.2 Arrangement for additional transportation
Super express train 20,000yen(1person) + Commission 3,300yen(incl. c-tax)=Total 23,300yen 
---
/// Cancellation Policy
Cancellation Policy for this course;
| | |
| --- | --- |
| Days to Departure | Cancellation Charge |
| More than 31 days | 10,000JPY |
| 30-15 days | 50% of trip price, Min 10,000JPY |
| 14-8 days | 70% of trip price, Min 10,000JPY |
| 7 days or Less, No Show | 100% of trip price |
Please refer to "Price, Terms and Conditions" for other detailed regulations.
---
 /// Application Form
Please select the course and fill in the below box;
---
/// Payment
Payment can be settled by credit card (Paypal or Stripe).
After your booking, we will send you an invoice, then after your payment by credit card, the booking would be completed.
/// Contact
If you have any questions or offer to book, please send an email. We welcome even little questions! Don't hesitate, and see you in Japan!!
Contact us:   info@i-travel-square.tokyo