Course 2: 

Adventurer's challenge; Hokuriku district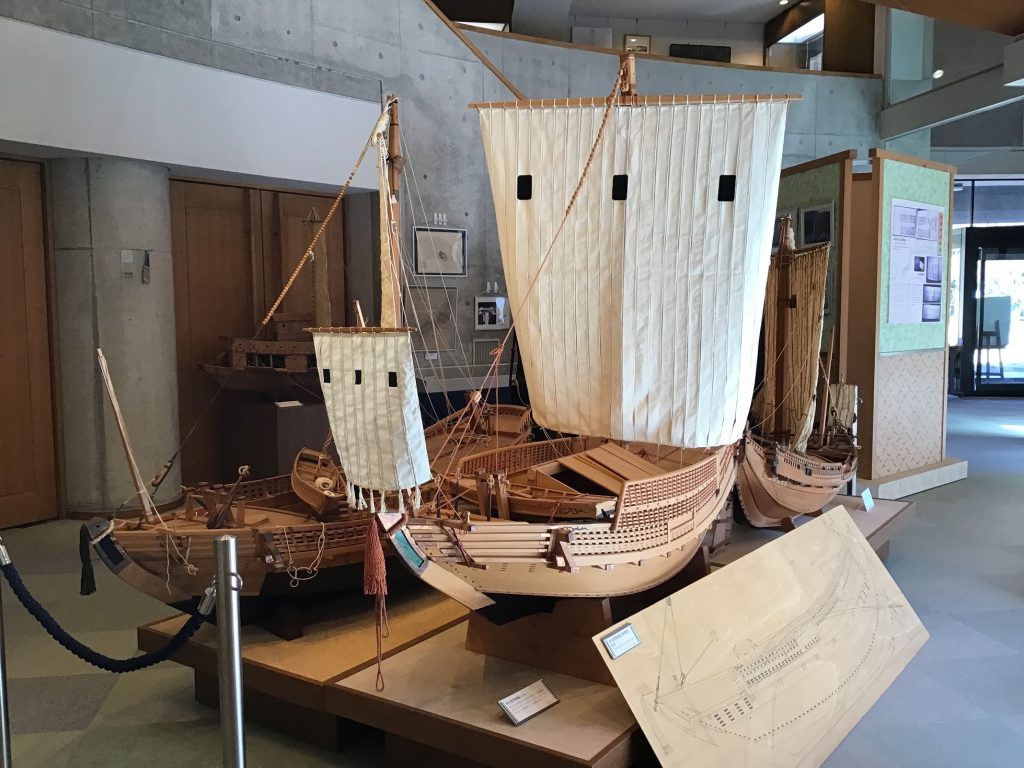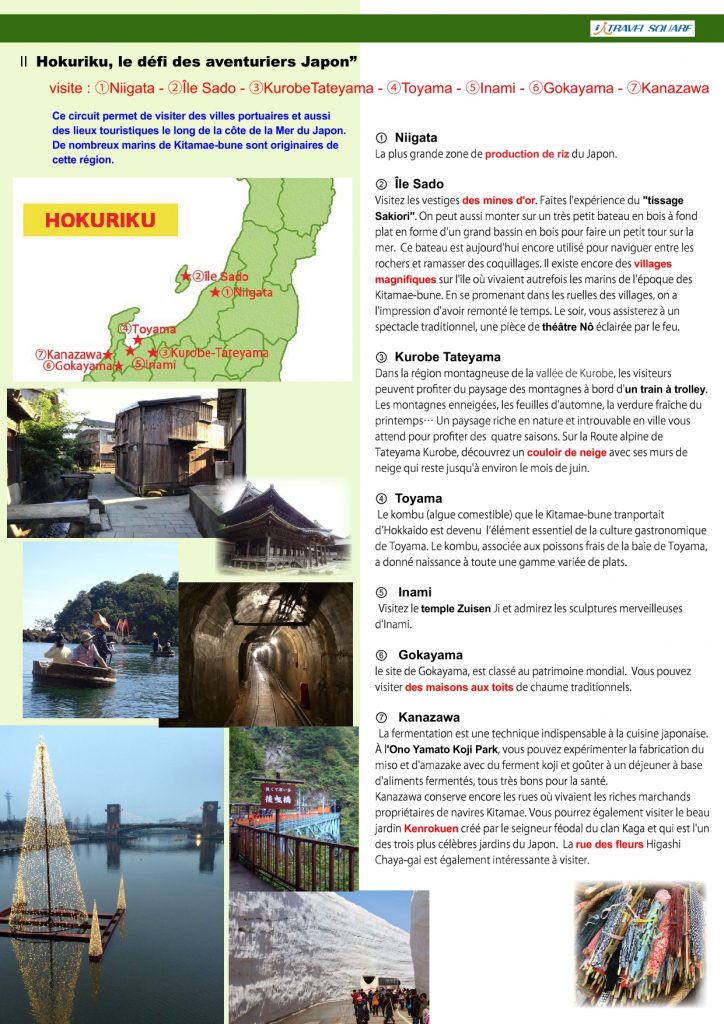 /// Introduction
Kitamae-bune were ships that was active from the mid-Edo period to the Meiji period. They carried goods to various places mainly along the Sea of Japan side of the route connecting Hokkaido and Osaka. Thanks to them, products from various regions were delivered to other regions, utilized those goods, and culture and performing arts flourished in various regions.
If we trace the roots of food culture, festivals, traditional performing arts, traditional crafts, etc. in various parts of Japan today, there are many that came from Kyoto and Kamigata (Osaka) on the Kitamae-bune. In addition, many of the roof tiles and stone materials used in old townscapes, shrines, and temples were transported as ballast on Kitamae-bune ships.
Why not embark on a journey to discover the connection between Kitamae-bune and Japanese culture that lives today?
Our tours interweave various themes related to Kitamae-bune, and also combine wonderful spots other than Kitamae-bune, making it a very meaningful and luxurious trip.
The tour can be as it is, or we can arrange the number of days and places to visit according to your wishes.
We can also arrange hotel classes and transportation upon your request.
Kyoto and Tokyo (Edo) are loved by foreigners.
"Kitamae-bune" shows what was transmitted from there, what supported there, and the connection between them.
Let's take this opportunity to learn about "Kitamae-bune" as you learn more about Japan!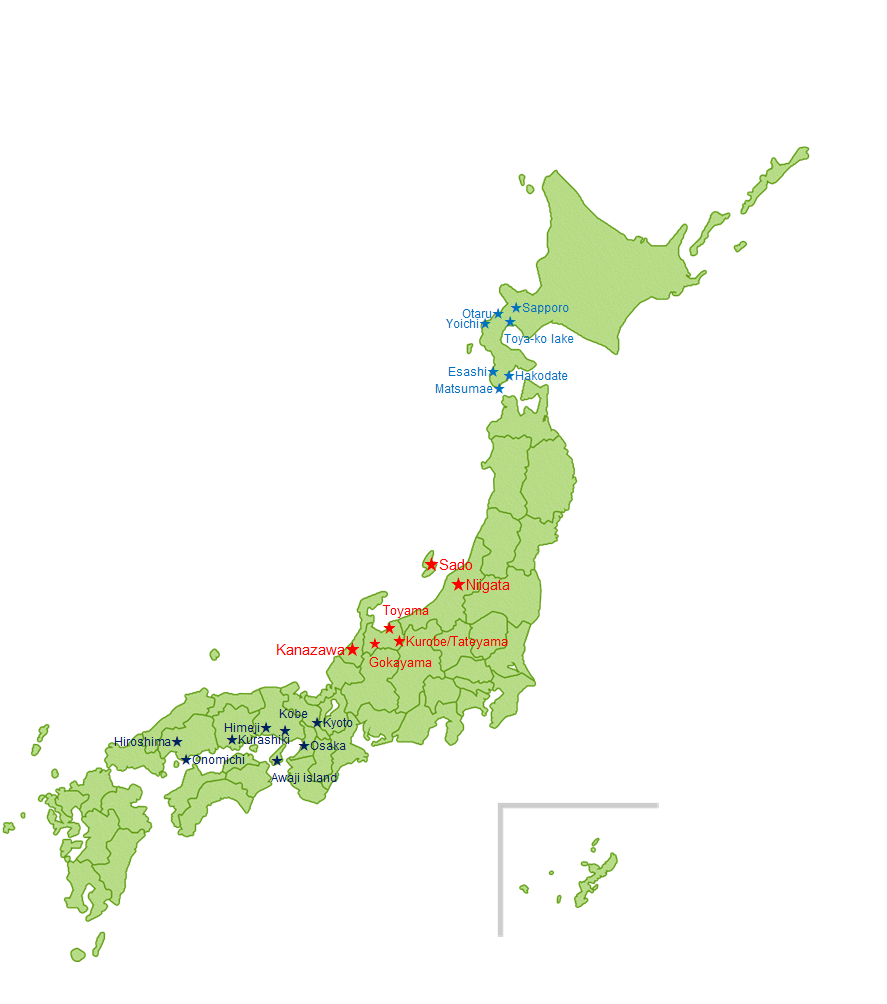 /// FIT package
We can arrange this tour for individual, family, or the small group, following to your designated date, through the year.
/// Itinerary
Day
Visiting Places


**the items in blue are related to the Kitamae-bune

Stay
1

Meet with guide at JR Niigata station, then go to Sado Island by ferry

Ripped weave experience
Noh, night performance watching

元祖リメイク、裂き織

weaving

night Noh performance

Ryotsu, Sado
2

Sado Island

Sado Gold Mine
Tub boat experience
Ogi Folk Museum
Shukunegi, port of call walking
Manjo-jiki sunset watching

"Shukunegi" old town developed as a shipping industry and a shipbuilding base where sailors and shipwrights (ship Meister) lived and a variety of occupations such as general store, bucket maker, indigo dyer, blacksmiths, and stone makers.

実寸再現の白山丸(佐渡)

tub boat floating

Shukunegi old town

sunset at Manjo-jiki

Ogi, Sado
3

AM; Ogi castle park walking

Ogi, the southern gateway to Sado, prospered as a gold and silver shipping port and as a port of call for Kitamaebune ships during the Edo period. Shiroyama Park is located on a hill with an altitude of 38m, and is the site of a floating castle from the Sengoku period. Here is a good cherry blossom viewing spot in spring.

Move to Naoetsu by ferry and go to Kurobe 

Kurobe Gorge Truck Train riding
Enjoy the beautiful fresh greenery, lingering snow, and autumn leaves of the unexplored region

Kurobe Gorge Truck Train riding

Move to Tateyama, then check in hotel

Tateyama
4

Tateyama Kurobe Alpine Route

Snow Wall (mid April to mid June)

Kurobe dam, Kurobe lake
Murodo, Mikurigaike pond

Murodo ropeway

Move to Toyama, then check in hotel.

**You can visit local famous festival "Kazeno-bon" during Sept.2-4.

the famous local festival "Kaze-no-bon" during Sept.2-4.

Toyama
5
Toyama Iwase district & western area

Pass to bloquer by water bus 
The most beautiful Starbucks in the world
Old Mori family residence
Old Baba family residence
Gokayama (UNESCO) same style house of Shirakawa-go (UNESCO)
Zuisenji temple with wood sculpture

Higashi-Iwase district prospered as a port of call for Kitamae-bune ships, including rice warehouses for the Kaga clan. Rice was mainly carried from Toyama, and kelp and herring were carried from Hokkaido. Since then, kombu has been an integral part of Toyama's food culture, and you can enjoy a variety of kombu dishes with fresh seafood from Toyama Bay.

Tororo Kombu riceball

Kombu shop

Kansui water park

wood sculpture

Gokayama (UNESCO)

Move to Kanazawa, then check in hotel

Kanazawa
6

AM:

Ohno Yamato Koji (malted rice) Park



While learning about the history of Ono town, in which it's very famous the representative of fermented foods such as miso and soy sauce, challenge making miso balls, salt koji, and amazake (sweet drink by lees), then enjoy a fermented food lunch.

soy beans

making miso

miso

Zeniya Gohei, who was based in the Kanaiwa district, which includes Ono town, made a huge property by Kitamae-bune business. The food culture of Ishikawa Prefecture is deeply related to the history of the Kitamae-bune, and there were so many miso and soy sauce factories in coastal town of Ohno. The soybeans purchased from the Kitamae-bune are processed to produce miso and soy sauce, and then sent back to various places. Zeniya Gohei was the representative of such business.

Mr. Zeniya Gohei

Zeniya's residence

大野湊神社の大絵馬(金沢)

PM: Popular and famous spots

Kenroku-en park
Higashi Teahouse street

Kenroku-en park

Kanazawa station

end off to JR Kanazawa station, then finish the tour

 
UNESCO World Heritage: 
Gokayama
The theme of Kitamae-bune:
Port of call and townscape: Shukunegi (Sado), Naoetsu, Higashi-Iwase (Toyama), Kanazawa
Building and house: Mori's residence, Baba's residence
Ships, routes and port facilities: Ogi castle park (Hiyori-yama, weather observation place)
History: Sado Gold Mine
Goods which was carried: Noto's roof tile, Seki-shu (Shimane prefecture)'s roof tile, Granite
Culture which was communicated: Night Noh performance, Ripped Weave, Fermented food
Museum: Ogi Folk Museum
---
/// Price and Booking
The price of this course will change depending on the participation date, desired hotel class, desired transportation, additional changes to the course, etc.
First of all, please send us your desired visit date and details from the application described below.
Our staff in charge will contact you, decide the customized course while consulting and confirming with you, and present you the price clearly.
After your agreement to this contents, the formal booking will be made.
/// Cancellation Policy
Cancellation Policy for this course after formal bookings;
| | |
| --- | --- |
| Days to Departure | Cancellation Charge |
| More than 31 days | 10,000JPY |
| 30-15 days | 50% of trip price, Min 10,000JPY |
| 14-8 days | 70% of trip price, Min 10,000JPY |
| 7 days or Less, No Show | 100% of trip price |
Please refer to "Price, Terms and Conditions" for other detailed regulations.
/// Application Form
Please select the course and fill in the below box;
/// Payment
Payment can be settled by credit card (Paypal or Stripe).
After your booking, we will send you an invoice, then after your payment by credit card, the booking would be completed.
---
/// Contact
If you have any questions or offer to book, please send an email. We welcome even little questions! Don't hesitate, and see you in Japan!!
Contact us:   info@i-travel-square.tokyo