Course 1: 


"The Kitchen of Japan"



The road to Osaka; Western Japan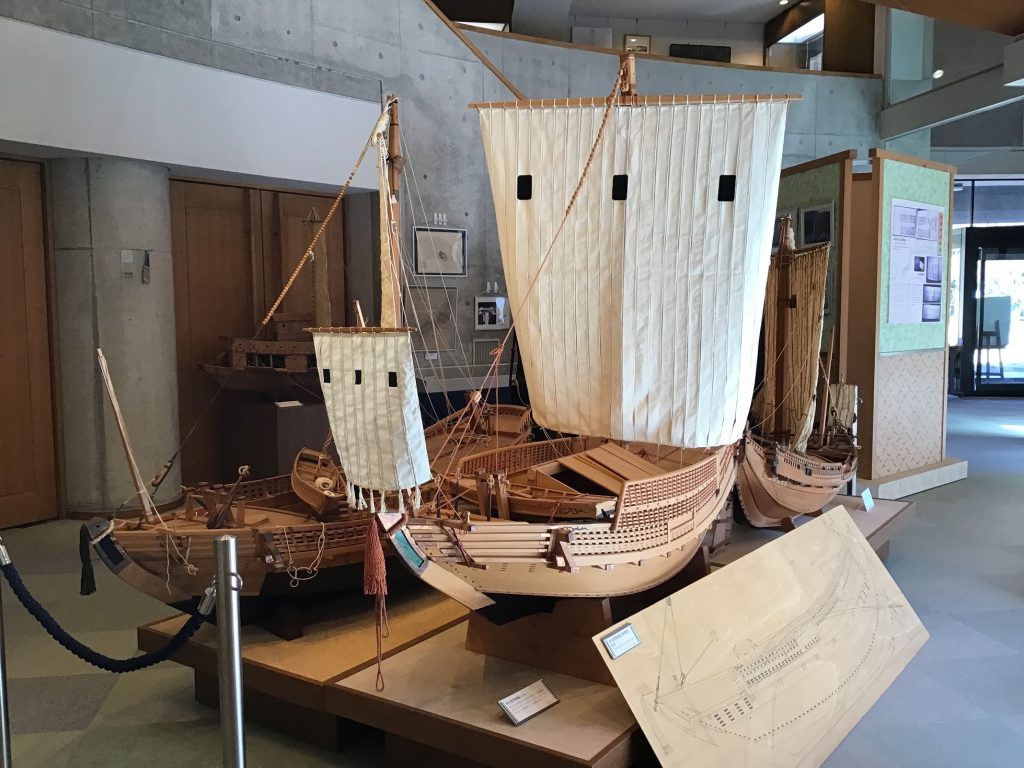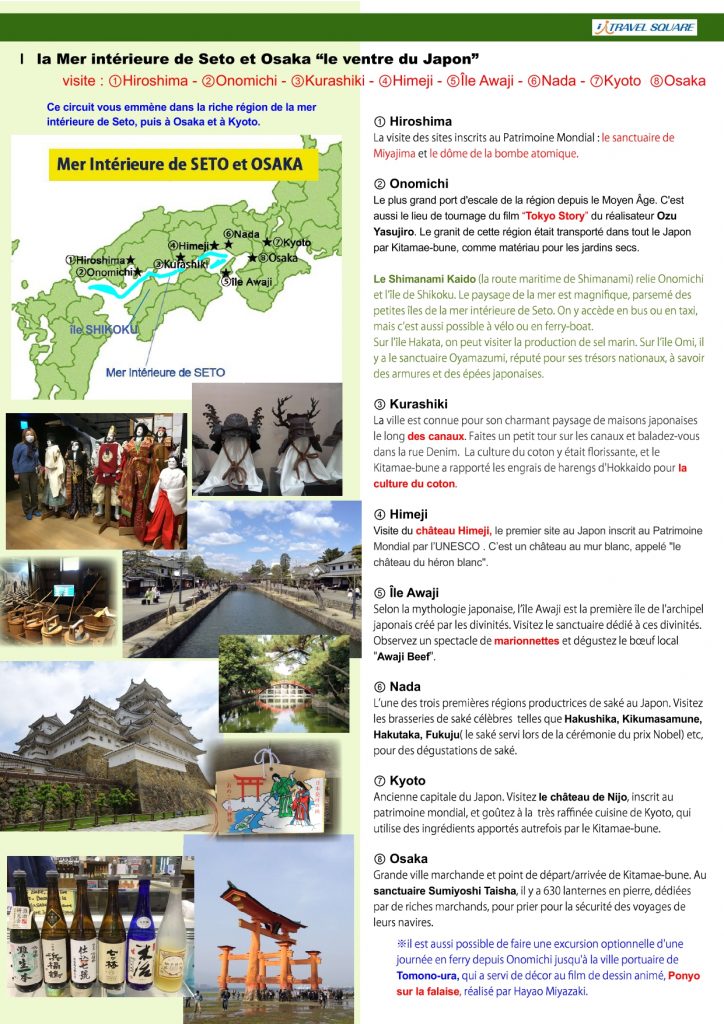 /// Introduction
Kitamae-bune were ships that was active from the mid-Edo period to the Meiji period. They carried goods to various places mainly along the Sea of Japan side of the route connecting Hokkaido and Osaka. Thanks to them, products from various regions were delivered to other regions, utilized those goods, and culture and performing arts flourished in various regions.
If we trace the roots of food culture, festivals, traditional performing arts, traditional crafts, etc. in various parts of Japan today, there are many that came from Kyoto and Kamigata (Osaka) on the Kitamae-bune. In addition, many of the roof tiles and stone materials used in old townscapes, shrines, and temples were transported as ballast on Kitamae-bune ships.
Why not embark on a journey to discover the connection between Kitamae-bune and Japanese culture that lives today?
Our tours interweave various themes related to Kitamae-bune, and also combine wonderful spots other than Kitamae-bune, making it a very meaningful and luxurious trip.
The tour can be as it is, or we can arrange the number of days and places to visit according to your wishes.
We can also arrange hotel classes and transportation upon your request.
Kyoto and Tokyo (Edo) are loved by foreigners.
"Kitamae-bune" shows what was transmitted from there, what supported there, and the connection between them.
Let's take this opportunity to learn about "Kitamae-bune" as you learn more about Japan!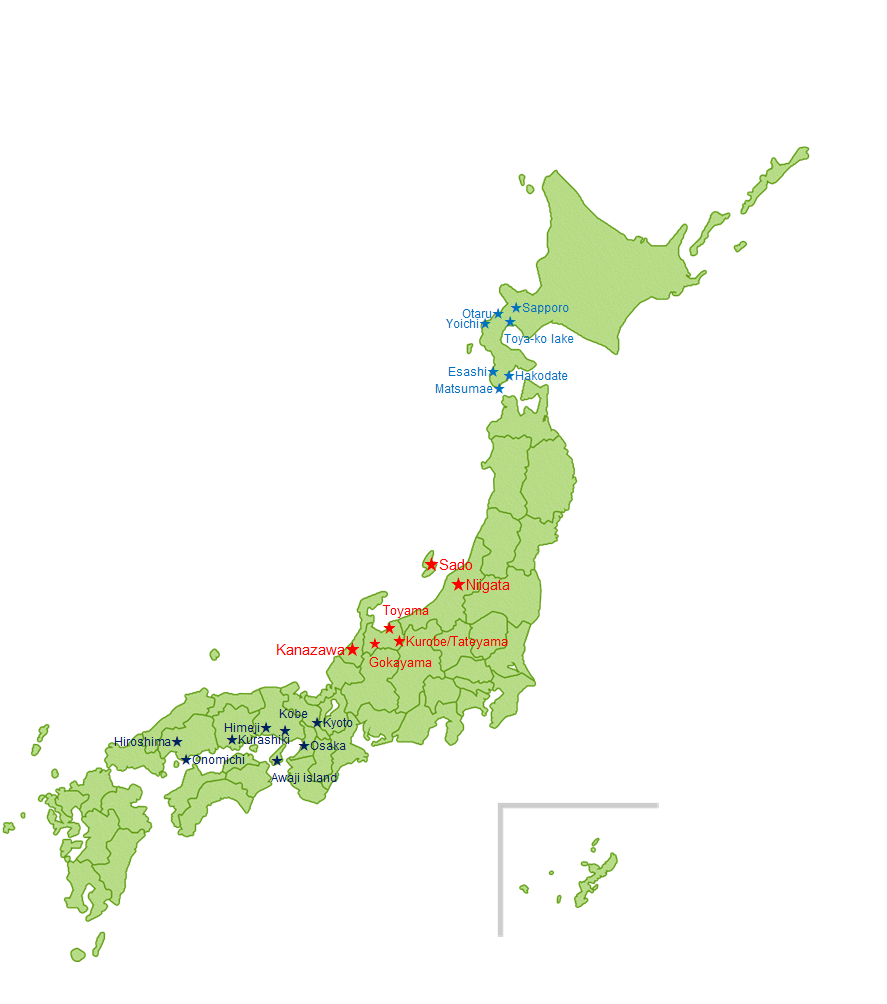 /// FIT package
We can arrange this tour for individual, family, or the small group, following to your designated date, through the year.
/// Itinerary
Day
Visiting Places


**the items in blue are related to the Kitamae-bune

Stay
1
Meet with guide at Hiroshima airport(HIJ) or JR Hiroshima station, then hotel check-in
Hiroshima
2

Hiroshima

Atomic Bomb Dome (UNESCO)
Atomic Bomb Memorial Park
Peace Memorial Museum
Itsukushima Shrine (UNESCO)

Hiroshima
3
Move to

Onomichi

Jodoji temple

(national treasure)

Stroll through the town of hills and temples

Onomichi has developed since the Middle Ages as one of the largest port towns in the Seto Inland Sea. Stonework, salt, iron anchors, etc. were shipped from Onomichi to various places. Especially high-quality granite stonework can be seen on the Sea of Japan side as well.

Onomichi
4

Shimanami Kaido

(the road connecting the islands)
**You can cycling upon your request

Suigun (pirates) castle

Oyama shrine (bicycle shrine)
Oyamatsumi shrine (armor and sword; national treasure)

Salt factory

Kiroyama observatory

(superb view point)

Japan's largest Murakami Kaizoku (pirates) appeared in the Geiyo Islands after the Muromachi period. They were not ordinary pirates who robbed money, but they were hired as harbor pilots and maritime guards. Knowing all about the Seto Inland Sea, which is known for archipelago, their skills were bought and they were active as sailors on the Kitamae-bune.

Onomichi
5
Move to

Kurashiki

Historic district
Ohashi-ke old house
Folk craft museum
Japanese folk toy museum

Denim street

Riverboat floating

Cotton cultivation was thriving in this area, and it was a major demand area for herring lees carried by Kitamaebune ships. The birthplace of jeans in Japan was created from the cotton fabric and the indigo of Tokushima (Shikoku area). In exchange for herring lees, not only cotton, but salt was also welcomed as a return cargo.

Kurashiki
6
Move to

Himeji

Then, move to Osaka

Osaka
7

Awaji Island

Akashi Strait park
Izanagi shrine, Kunju-do (incense stick)

Takataya museum

Onokoro-jima shrine
Whirlpool cruise

Awaji Ningyo-za

(watch the Japanese puppet show, and visit back stage tour)

Awaji Island is the birthplace of Kahei Takataya, who played an active role as a pioneer of Ezo (Hokkaido) development and Japan-Russia civil diplomacy. Ryotaro Shiba, a famous Japanese auther, evaluated him as "the greatest person of the Edo period."

buck stage tour of puppet show

Osaka
8
Nada's Sake (Japanese liquor) brewery tour

Yodoko Guest House

Hakushika brewery

Fukuju brewery and lunch

Kiku-Masamune brewery

Sakura-Masamune brewery 

Due to its convenient location for sea transportation, Nada area's high-quality sake was transported to Edo by barrel cargo ships and to Ezo (Hokkaido) by Kitamae-bune. Nada's refined sake was particularly valuable in Ezo, where there were no rice paddies and sake brewing technology.

Osaka
9

Osaka
・Visit Sumiyoshi shrine

Then, move to Kyoto
・Experience Kyoto cuisine (lunch)
・Nijo-jo castle (UNESCO) 

Back to Osaka

Osaka, which was the origin and end of the Kitamae-bune, has had an international port since ancient times and was open to overseas countries such as the Korean Peninsula and mainland China. In addition to the Kitamae-bune, many ships, such as the Higaki Kaisen, which connected with Edo, were coming and going, and it was booming with 1,000 ships coming in and 1,000 ships leaving. In this way, many goods gathered in Osaka, and there were many wholesalers such as food and fabrics, and it developed as a commercial city.
This is the reason why Osaka is called "the kitchen of Japan".

Osaka
10
Send off to Kansai International Airport (KIX) or Osaka / Shin-Osaka station, then finish the tour
 
UNESCO World Heritage: 
Atomic Bomb Dome, Itsukushima Shrine, Himeji Castle, Nijo-jo Castle
The theme of Kitamae-bune:
Port of call and townscape: Onomichi, Himeji, Awaji Island, Kobe, Sumiyoshi (Osaka)
Ships, routes and port facilities: Shimanami Kaido (the road connecting the islands)
Faith: Sumiyoshi Shrine (offerings such as lanterns)
History: Nijo-jo Castle (Tokugawa family in Edo period)
Goods which was carried: Nada's Sake
Culture which was communicated: Cotton, Indigo, Joruri (Puppet show), Kyoto cuisine
Museum: Takataya Museum
---
/// Price and Booking
The price of this course will change depending on the participation date, desired hotel class, desired transportation, additional changes to the course, etc.
First of all, please send us your desired visit date and details from the application described below.
Our staff in charge will contact you, decide the customized course while consulting and confirming with you, and present you the price clearly.
After your agreement to this contents, the formal booking will be made.
/// Cancellation Policy
Cancellation Policy for this course after formal bookings;
| | |
| --- | --- |
| Days to Departure | Cancellation Charge |
| More than 31 days | 10,000JPY |
| 30-15 days | 50% of trip price, Min 10,000JPY |
| 14-8 days | 70% of trip price, Min 10,000JPY |
| 7 days or Less, No Show | 100% of trip price |
Please refer to "Price, Terms and Conditions" for other detailed regulations.
/// Application Form
Please select the course and fill in the below box;
/// Payment
Payment can be settled by credit card (Paypal or Stripe).
After your booking, we will send you an invoice, then after your payment by credit card, the booking would be completed.
---
/// Contact
If you have any questions or offer to book, please send an email. We welcome even little questions! Don't hesitate, and see you in Japan!!
Contact us:   info@i-travel-square.tokyo