Namahage in Oga Peninsula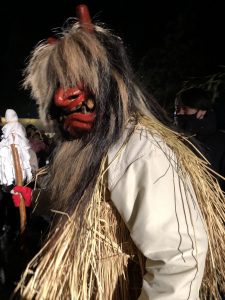 What is "Namahage"?
On the night of New Year's Eve, young men from each village dress up as "Namahage" and shout loudly such as "is there a child who cries?", "is there a child who doesn't listen to their parents?", "does the wife of this house get up early?", and visit each local homes.
For the people of Oga, the Namahage is a visiting deity that warns against laziness, brings good health, and bountiful harvests from the fields,  the mountains, and the sea. At homes where Namahage are welcomed, food and sake (liquor) are prepared according to traditional etiquette and treated with respect.
In 1978, it was designated as a national important intangible folk cultural property as "Oga no Namahage". Furthermore, it was registered as a UNESCO Intangible Cultural Heritage in 2018.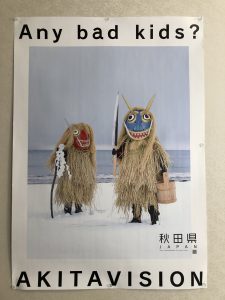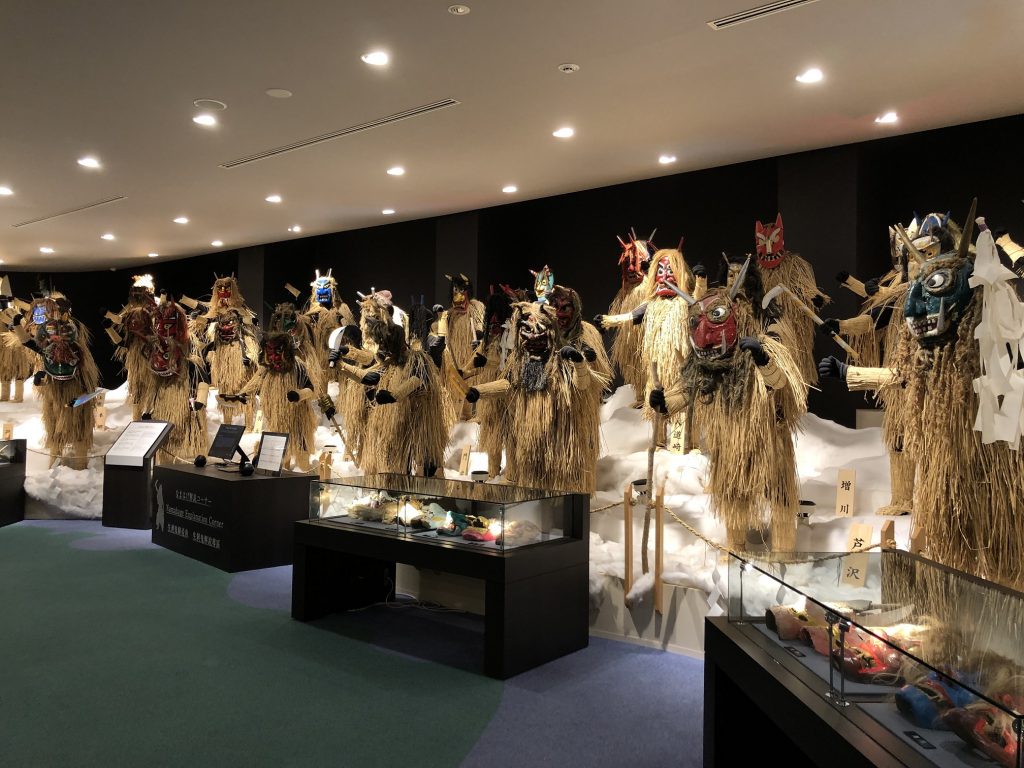 Traditional event that fascinates the viewers
This festival is a winter tourist event that combines the Shinto ritual event, which has been held at Shinzan Shrine on January 3 every year for over 900 years, and the folk event "Namahage". The Namahage perform a heroic dance in front of the fire burning in the precincts of the shrine.
This festival is held every year for three days, Friday, Saturday and Sunday, with the second Saturday in February.
Highlights of the Oga Peninsula
The Oga Peninsula, which protrudes into the Sea of Japan, is quite compact, measuring about 28km from east to west and about 20km from north to south, but you can observe the whole stratum of the past 70 million years from the time when the Japanese archipelago was still connected to the continent to the present day.
If you have time, why not stay overnight and explore the Oga Peninsula?
---
/// FIT package
We can arrange this tour for individual, family, or the small group, following to your designated date, during 3 days of Friday, Saturday and Sunday, with the second Saturday in February.
/// Itinerary
13:30 Meet with guide at JR Akita station, then take the train to Oga station, and from Oga station to the event venue, take the temporary service bus
16:00-17:30 Visit Namahage museum and watch the reproduce of the Namahages' visit at Densho-kan.
18:00-20:30 Namahage Sedo Festival
Kagura Shinto dance performance
Namahage spirit call
Reproduce of the Namahages' visit performance
Namahage dance
Namahage daiko drumming
Namahage descending from the mountain, offering of Goma-mochi (rice cake) to Namahage
Communication time with Namahage
20:30-23:40 From the venue to Oga station by temporary bus, and Oga station to Akita station by train
23:40 Arrive at Akita station, then finish the tour.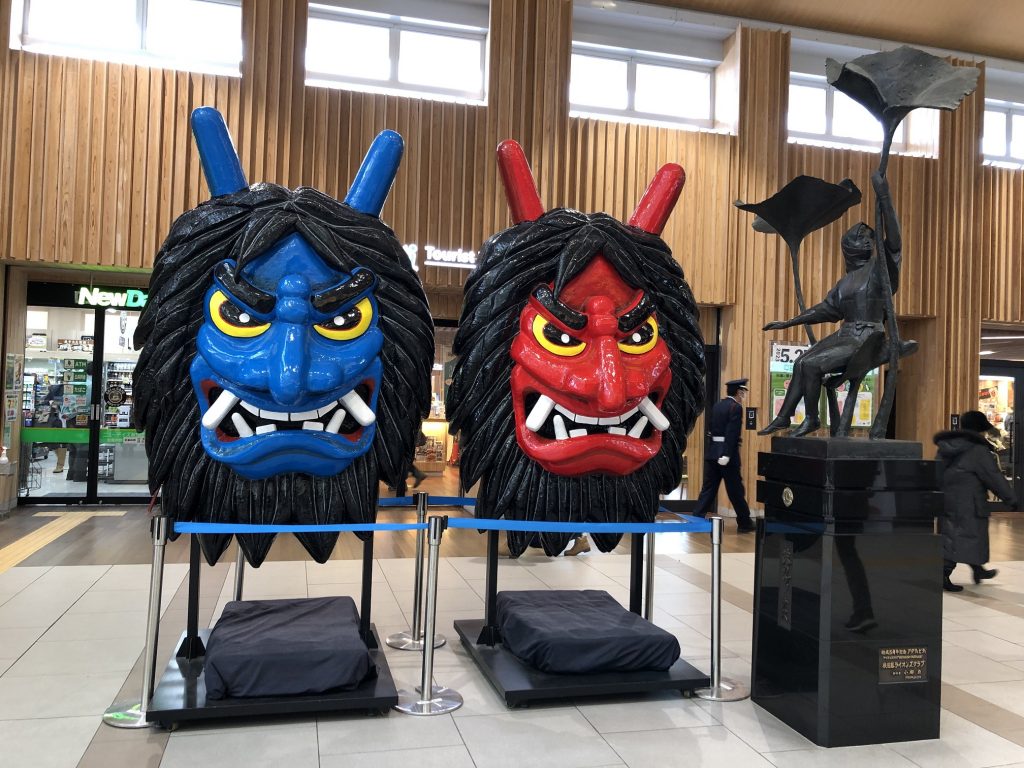 ---
/// Price
Number
of Guests
 1
2
 3
4-5
 6 or more
(Max 10)
Price 
/ person
(Yen)
 74,000
 40,000
 29,000
24,000
 29,000
Price Include:
Transportation (train and bus) between Akita station and event venue
Entrance fees of event and museum
English (or other languages) speaking guide
(English, Chinese, French, German, Italian, Spanish, Portuguese, Dutch, Russian, Thai)
Commission for arrangements
Commission for settlements by credit card
Consumption tax
Price Exclude:
Transportation costs to the meeting place / ending place
Accommodation costs
Food and beverage fee
Souvenir fee / personal expenses
Expenses for services not described in the itinerary
---
---
/// Additional arrangement
Regarding these standard courses, we can arrange the plan upon your request by adding / deleting destinations, and combining other courses before and after, making reservations of accommodation, transportation, restaurants, or event tickets, etc. Please contact us by all means.
Please see here for the arrangement fee.
ex.1 Arrangement for accommodation
Room charge 10,000yen(1night 1person) + Commission 1,650yen(incl. c-tax)=Total 11,650yen 
ex.2 Arrangement for additional transportation
Super express train 20,000yen(1person) + Commission 3,300yen(incl. c-tax)=Total 23,300yen 
---
/// Cancellation Policy
Cancellation Policy for above course;
| | |
| --- | --- |
| Days to Departure | Cancellation Charge |
| More than 15 days | 5% of trip price |
| 14-8 days | 50% of trip price |
| 7-2 days | 80% of trip price |
| 1 day or Less, No Show | 100% of trip price |
Please refer to "Price, Terms and Conditions" for other detailed regulations.
---
/// Application Form
Please select the course and fill in the below box;
---
/// Payment
Payment can be settled by credit card (Paypal or Stripe).
After your booking, we will send you an invoice, then after your payment by credit card, the booking would be completed.
/// Contact
If you have any questions or offer to book, please send an email. We welcome even little questions! Don't hesitate, and see you in Japan!!
Contact us:   info@i-travel-square.tokyo