K-9 Odawara castle & Enoura Observatory
Odawara Castle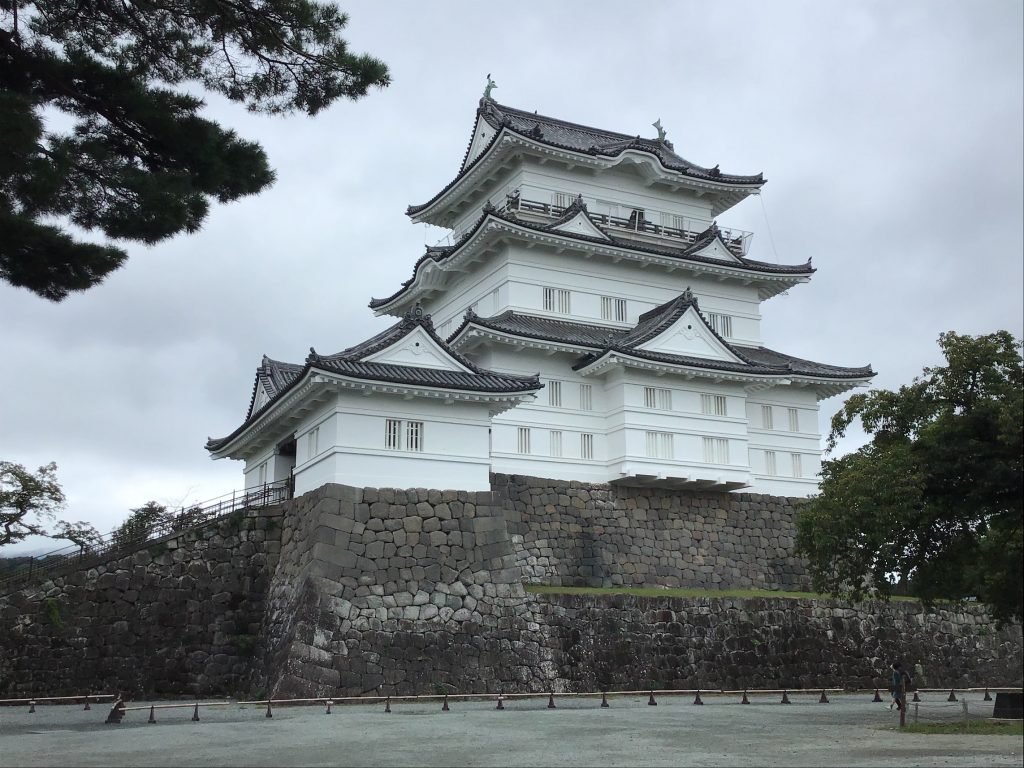 Odawara Castle was built in the 15th century, and after becoming the residence of Hojo, who was the lord of the Sengoku period, it was gradually expanded as a base for Kanto rule. Then, to defence of Hideyoshi's attack, he built a 9-kilometer sōgamae (outermost enclosure), it boasted the largest castle in Japan in the Middle Ages.
In the battle of Toyotomi Hideyoshi's siege of Odawara Castle that began in April 1590, the fifth castle owner, Ujinao, opened Odawara Castle bloodlessly, seeking the help of castle soldiers and lords, preparing to trade his own life.  It was the surrender of the castle, which shows the deep bond of the heart that he thought of the lord.
The current castle tower was reconstructed in 1960 with a reinforced concrete structure based on the templates and drawings made in the Edo period.
---
Enoura Observatory
Enoura area is a valuable natural heritage that holds an exceptional landscape overlooking Sagami Bay with the steep Hakone surrounding mountain in the background. Taking this nature as a backdrop, each building is arranged in harmony with the garden.
Even though it is called a weather station, it is not equipped with observation equipment. It is an art garden where various objects and buildings are spread all over the vast site.
Visitors can stroll around the garden as they please, and feel, think and immerse themselves in various ways. It is an art that is different from general museums and galleries.
---
/// FIT package
We can arrange this tour for individual, family, or the small group, following to your designated date, through the year.
/// Itinerary
9:00 Meet at JR Odawara station, then guide takes you to Odawara castle by walk.
Visit several facilities in this place, such as castle tower, each gate, moat, and Ninomiya Shrine. 
12:00 You can take lunch at the local diner restaurant around this area, then move to Nebukawa station by JR train and bus.
14:00 Visit Enoura Observatory.
16:30 Take bus and JR train to Odawara station.
17:10 Return to Odawara station, then finish the tour.
---
/// Price
Number
of Guests
 1
2
 3
4-5
 6 or more
(Max 10)
Price 
/ person
(Yen)
 80,000
 43,000
 31,000
25,000
 26,000
Price Include:
English (or other languages) speaking guide
(English, Chinese, French, German, Italian, Spanish, Portuguese, Dutch, Russian, Thai)
Entrance fees described in the itinerary for guests and guide
JR train return fare between Odawara – Nebukawa
Commission for arrangements
Commission for settlements by credit card
Consumption tax
Price Exclude:
Transportation costs to the meeting place / ending place
Accommodation costs
Food and beverage fee for customers and guide
Souvenir fee / personal expenses
Expenses for services not described in the itinerary
Regarding these standard courses, we can arrange the plan upon your request by adding / deleting destinations, and combining other courses before and after, making reservations of accommodation, transportation, restaurants, or event tickets, etc. Please contact us by all means.
Please see here for the arrangement fee.
ex.1 Arrangement for accommodation
Room charge 10,000yen(1night 1person) + Commission 1,650yen(incl. c-tax)=Total 11,650yen 
ex.2 Arrangement for additional transportation
Super express train 20,000yen(1person) + Commission 3,300yen(incl. c-tax)=Total 23,300yen 
---
/// Cancellation Policy
Cancellation Policy for this course;
| | |
| --- | --- |
| Days to Departure | Cancellation Charge |
| More than 31 days | 10,000JPY |
| 30-15 days | 50% of trip price, Min 10,000JPY |
| 14-8 days | 70% of trip price, Min 10,000JPY |
| 7 days or Less, No Show | 100% of trip price |
Please refer to "Price, Terms and Conditions" for other detailed regulations.
---
 /// Application Form
Please select the course and fill in the below box;
---
/// Payment
Payment can be settled by credit card (Paypal or Stripe).
After your booking, we will send you an invoice, then after your payment by credit card, the booking would be completed.
/// Contact
If you have any questions or offer to book, please send an email. We welcome even little questions! Don't hesitate, and see you in Japan!!
Contact us:   info@i-travel-square.tokyo