M-40 Exciting "Ninja" training & Mountain waterfall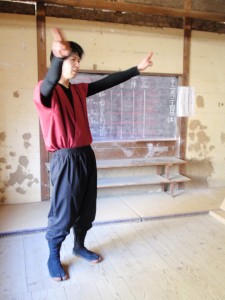 The Birthplace of Ninja
There were many ninjutsu (Ninja technique) schools in Japan.
Among them, Iga-style ninjutsu is well-known as being particularly excellent along with Koga-ryu ninjutsu.
Why is that?
Originally, Iga was controlled by Todaiji Temple in Nara.
Eventually, "villains" who rebel against the rule of Todaiji Temple appeared there. Todaiji asked the government to crack down on this "villain," but couldn't put it down.
In lands beyond the control of the country, they will hone their unique combat skills and complete ninjutsu (Ninja technique).
In other words, this "villain" is the root of the Iga-style Ninja.
Iga is surrounded by deep mountains on all sides, and it was a land where people who had been displaced from the city for some reason came. Various information gathered in Iga and went out.
The Akame ravine have been chosen by Iga style Ninja as a training place as it offer a large panel of natural training environment and for it's strategic localization at that time.
16th century, the Sengoku (Samurai) period began.
The Japan was divided into many small countries and fought fierce battles. Under such circumstances, Iga Ninja was bought the technology and was hired by military commanders from various countries.
That's how the ninja spread all over Japan.
【Ninja Training Experience!】
---
The 48 Water Falls
The Akame 48 waterfalls are a collective name for a string of waterfalls flowing through Akame-cho, Nabari, Mie. In Japan, more than 1300 years ago, a legendary holy man named En no gyoja was active. It is said the name Akame (red eye) derives from a legend that he met Fudo-myoo (God of Fire) riding a red-eyed ox. They are actually much more than 48 waterfalls, but the number "48" means "Many" in Japanese.
There are various waterfalls in Akame. Among them, five large falls, "Fudo", "Senju", "Nunobiki", "Ninai" and "Biwa" are popular under the name of "The Akame Five Waterfalls". A recreational path about 4 km long along the waterfalls is used as a hiking path to enjoy walking while listening to the sound of the waterfalls. The path is famous for its different aspects according to the season, from cherry blossoms in spring through tender green in early summer, colored leaves in autumn to frozen falls in winter.
---
/// FIT package
We can arrange this tour for individual, family, or the small group, following to your designated date, trough the year.
/// Itinerary
9:50/13:00 Meet at Kintetsu Akame-guchi station, then guide takes you by local bus to Akame-Taki, arrive at Ninja training village. 
10:30/13:30 Change the cloth to Ninja special costume, start Ninja training. 
Today, you can put on a ninja suit and experience some ninja activities including the art of hiding, climbing and jumping. 
12:00/15:00 After finish the Ninja training, you can visit Akame ravine  by walk.
Akame 48 falls are famous for scenic spots of waterfalls, and also famous for a sacred place of moss. The moss is a mysterious existence that brings moisture to the atmosphere just by being there.
When you stare at them, you feel time passes slow and you calm down. The space of healing is created by Akame's nature.
Enjoy your time at the Akame 48 Falls!
13:40/15:45 After visit Akame 48 falls, take the local bus to Akame-guchi station.
14:00/16:00 Arrive at Akame-guchi station, then finish the tour.
/// Price
Number
of Guests
 1
2
 3
4-5
 6 or more
(Max 10)
Price 
/ person
(Yen)
 61,000
 33,000
 24,000
20,000
 19,000
Price Include:
Return transportation (local bus) between Akame-guchi station and Akame-taki bus stop
English (or other languages) speaking guide
(English, Chinese, French, German, Italian, Spanish, Portuguese, Dutch, Russian, Thai)
Admission fare for Ninja training including Ninja costume, mountain entrance fee
Transportation (bus) for guide
Commission for arrangements
Commission for settlements by credit card
Consumption tax
Price Exclude:
Transportation costs to the meeting place / ending place
Accommodation costs

Food and beverage

fee for customers and guide
Souvenir fee / personal expenses
Expenses for services not described in the itinerary
Regarding these standard courses, we can arrange the plan upon your request by adding / deleting destinations, and combining other courses before and after, making reservations of accommodation, transportation, restaurants, or event tickets, etc. Please contact us by all means.
Please see here for the arrangement fee.
ex.1 Arrangement for accommodation
Room charge 10,000yen(1night 1person) + Commission 1,650yen(incl. c-tax)=Total 11,650yen 
ex.2 Arrangement for additional transportation
Super express train 20,000yen(1person) + Commission 3,300yen(incl. c-tax)=Total 23,300yen 
---
/// Cancellation Policy
Cancellation Policy for this course;
| | |
| --- | --- |
| Days to Departure | Cancellation Charge |
| More than 31 days | 10,000JPY |
| 30-15 days | 50% of trip price, Min 10,000JPY |
| 14-8 days | 70% of trip price, Min 10,000JPY |
| 7 days or Less, No Show | 100% of trip price |
Please refer to "Price, Terms and Conditions" for other detailed regulations.
---
 /// Application Form
Please select the course and fill in the below box;
---
/// Payment
Payment can be settled by credit card (Paypal or Stripe).
After your booking, we will send you an invoice, then after your payment by credit card, the booking would be completed.
/// Contact
If you have any questions or offer to book, please send an email. We welcome even little questions! Don't hesitate, and see you in Japan!!
Contact us:   info@i-travel-square.tokyo