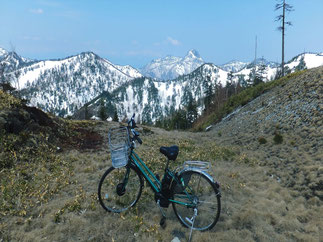 This tour is mountain road trekking to make round trip between Kusatsu Hot Spa and the Shibu Pass, which is at 2,172 m high, the highest point among all National Roads in Japan.  On the way, there are superb view spots like emerald green colored crater lake of Shirane Volcano (see note 1), and mountain road along the watershed between Gunma Prefecture and Nagano Prefecture.  Around golden week in early May, passing through tall snow corridor, just after snowplow, is so fun.
 Note 1: Due to high level activity of Shirane Volcano started in early June 2014, there is an alert for traffic on Route 292 on the way to Shibu Pass.  Please follow the safety advice by B-Ike tour guide.
| | |
| --- | --- |
| Bike Tour Distance | 35.4 km (Round Trip) |
| Bike Tour Time (Uphill) | 2hr(Actual) |
| Bike Tour Time (Downhill) | 1hr (Actual) |
| Other Time for rest and viewing | 1hr30min (Assumed) |
| Meeting Place | JR Naganohara-Kusatsuguchi Station |
| Bike Tour Starting Point | Tenguyama Parking Area (1,240 m high) |
| Bike Tour Highest Elevation | Shibu Pass of National Route292 (2,172 m high) |
| Bike Tour Finishing Point | Same as starting point |
| Dispersing Place | Same as meeting place |
| Recommendation | Follow instruction on volcano warning |
From Tenguyama Parking Area to Kutasu-Shirane Rest House (Uphill)
It takes about half an hour by our shuttle from meeting point of JR Naganohara-Kusatsuguchi Station to the tour starting point of Tenguyama Parking Area in Kusatsu Hot Spa at 1,240 meter high.  The bike trekking tour is a round trip on National Route 292.  After leaving the starting point, the tour bike aims to Kusatsu-Shirane rest-house at 2,010 meter high.  On the way, the route goes through 1,600m high area near the rope-way station, called Sessyo-ga-hara where poisonous gas ejected from earth and all vehicles has to pass the area without stopping.  At present, all vehicles including bike also cannot stop and park in the volcano alert zone where rest-house is located.
From Kusatsu-Shirane Rest Houst to Shibu Pass (Uphill)
The road from Kusatsu-Shirane rest-house to Shibu Pass, the highest point, is relatively gentle up-and-down slope, but not so steep uphill one.  Along with the road built on the watershed between Gumma and Nagano Prefectures, you can have magnificent view of Mt. Shirane and Shiga Mountains.  At  the Shibu Pass, you can find the stone plate indicating 2,172 meter high, the highest elevation among Japanese National Roads.  You might try to go to Yokoteyama Drive-in at 2,100 meter high, and 1.5 km away ahead if enough power is remained in battery.  At the drive-in, you can take rest and have view for Northern Japan Alps.
From Shibu Pass to Tenguyama Parking Area (Downhill)
On the way back from Shibu Pass to Kusatsu-Shirane rest-house, there are a few uphill slopes, so that, it is better to confirm that battery meter shows more than 10% remained when leaving the highest point.  From Kusatsu-Shirane rest-house to the final goal at the parking area, please keep the speed low for your safety by making use of regenerative brake system.
/// Price
Number of Guests 
 1
2
 3
(Max)
Price  /
person (Yen)
Y-34
T-24
G-26
 101,000
 41,000
 30,000
Price Include:
Rental of Electric Assist Bicycle
Route guide service (English)
Commission for arrangements
Commission for settlements by credit card
Consumption tax
Price Exclude:
Transportation costs to the meeting place / ending place
Accommodation costs
Food and beverage fee for customers and guide
Entrance admission to tour facilities
Payment to toll road for bike
Souvenir fee / personal expenses
Expenses for services not described in the itinerary
Regarding these standard courses, we can arrange the plan upon your request by adding / deleting destinations, and combining other courses before and after, making reservations of accommodation, transportation, restaurants, or event tickets, etc. Please contact us by all means.
Please see here for the arrangement fee.
ex.1 Arrangement for accommodation
Room charge 10,000yen(1night 1person) + Commission 1,650yen(incl. c-tax)=Total 11,650yen 
ex.2 Arrangement for additional transportation
Super express train 20,000yen(1person) + Commission 3,300yen(incl. c-tax)=Total 23,300yen 
---
/// Cancellation Policy
Cancellation Policy for above course;
| | |
| --- | --- |
| Days to Departure | Cancellation Charge |
| More than 15 days | 5% of trip price |
| 14-8 days | 50% of trip price |
| 7-2 days | 80% of trip price |
| 1 day or Less, No Show | 100% of trip price |
Please refer to "Price, Terms and Conditions" for other detailed regulations.
---
/// Application Form
Please select the course and fill in the below box;
---
/// Payment
Payment can be settled by credit card (Paypal or Stripe).
After your booking, we will send you an invoice, then after your payment by credit card, the booking would be completed.
/// Contact
If you have any questions or offer to book, please send an email. We welcome even little questions! Don't hesitate, and see you in Japan!!
Contact us:   info@i-travel-square.tokyo