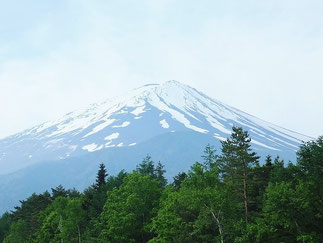 This bike tour is going up and down between Mt. Fuji base and the 5th step along with Fuji Subaru Line.  This road is selected as one of the Japan Best 100 Roads.  On the way, you can enjoy magnificent view of Mt. Fuji directly ahead, downward view of deep virgin forest and lakes on Mt. Fuji base, and far views of 3,000-meter-high Southern Japan Alps.  Unlike travlers by car, you can stop your pedaling of E-bike and take some break for viewing at wherever you would like to stop. This is advantage of the bike tour.  The last highlight is to go down from 2,300-meter-high point to 900-meter-high point if you would like not to pause on its way.
| | |
| --- | --- |
| Bike Tour Distance | 57.0 km (Round Trip) |
| Bike Tour Time (Uphill) | 3hr30min(Actual) |
| Bike Tour Time (Downhill) | 1hr (Actual) |
| Other Time for rest and viewing | 1hr30min (Assumed) |
| Meeting Place | JR Otsuki Station |
| Bike Tour Starting Point | Fuji Hokuroku Parking (872m high) |
| Bike Tour Highest Elevation | Mt. Fuji 5th Station (2,305m high) |
| Bike Tour Finishing Point | Same as starting point |
| Dispersing Place | Same as meeting place |
| Recommendation | Going on left side of the road |
From Base to the 5th Station of Mt. Fuji (Uphill)
It takes 40 minutes after departing from meeting place at JR Otsuki Station through Chuo Highway to Fuji Hokuroku Parking area at 872m high near Fuji Yoshida IC.  JR Bus Kanto, and Fuji Express operate highway buses between Tokyo Station and Lake Kawaguchi.  Since the buses stop by this parking area, it is convenient for guests directly to come from Tokyo Station. (See Note 1)
 Note 1:  Japan Rail Pass is not applicable for this bus.  If you make use of the pass, please take JR train to JR Otsuki Station from Tokyo.
 From the parking area to the toll gate of Fuji Subaru Line, you keep on going on gentle slope. Through break of tall cypress and Japanese red pine trees, Mt. Fuji can be seen directly ahead.  Soon after going through the toll gate at 1,085m high, you get to the 1st station parking area at 1,291m high, where an open area makes view of Mt. Fuji much wider.  Since starting, it may take about an hour. (See Note 2)
Note 2: From June 10 through August 31, 2015, all private cars and motor cycles except bikes cannot drive on the Subaru Line.  They request to leave all cars and motor cycles at Fuji Hokuroku Parking and to take public buses to the 5th station.
At Junakdai Parking area at 1,663m high, you finally can see downward Aokigahara virgin forest, Sai Lake, and Kawaguchi Lake after you have been on a deep forest road from the 1st station to the Jukaidai Parking.  The forest type at higher than Jukaidai Parking to the 5th station, is changed to subalpine coniferous forest with Japanese larch and Tsuga diversifolia, which makes you feel different mountain.  At Jukaidai Parking area or at higher point,  you can have far view of Southern Japan Alps to western direction.  When you stop your bike for viewing on the road side, please be careful for cars passing near you.  Since starting point to the next Osawa Parking area at around 2,000 meter high, it may take about 2 hours.
Soon after passing by the 4th station at 2,045 high, there is a parking area of Okuniwa Nature Park at 2,140 high.  It is highly recommended to visit this park for who would like to enjoy trekking on the mountain trail.  After walking down shortly from the parking area, there is a flat area, where you have step-stone trail.  At observation area of the trail, both view of Mt. Fuji peaks ahead and far view from the high elevation should attract you.  Along the trail, beauties of Japanese larch exposed to severe mountainous climate should impress you, too.  It may take about an hour to walk around this trail in the park.
The 5th station of the last end of Fuji Subaru Line is crowed with people who are aiming to climb to higher level or just tourists to enjoy sightseeing around the 5th station area.  If you spend one hour for trekking in Okuniwa Nature Park, it may take about 4.5 hours from starting point to the 5th station by E-bike.
From the 5th Station to Tour Finishing Point (Downhill)
It is long way from the 5th station to the finishing point at Fuji Hokuroku Parking area, maybe an hour riding on downhill.  When temperature is low, it is better to wear windbreaker or outfit for cold protection.  It is danger to go down at high speed on downhill, so that, please keep speed at 20 to 30 km per hour by making use of regenerative brake of front wheel.
/// Price
Number of Guests 
 1
2
 3
(Max)
Price  /
person (Yen)
Y-34
T-24
G-26
 101,000
 41,000
 30,000
Price Include:
Rental of Electric Assist Bicycle
Route guide service (English)
Commission for arrangements
Commission for settlements by credit card
Consumption tax
Price Exclude:
Transportation costs to the meeting place / ending place
Accommodation costs
Food and beverage fee for customers and guide
Entrance admission to tour facilities
Payment to toll road for bike
Souvenir fee / personal expenses
Expenses for services not described in the itinerary
Regarding these standard courses, we can arrange the plan upon your request by adding / deleting destinations, and combining other courses before and after, making reservations of accommodation, transportation, restaurants, or event tickets, etc. Please contact us by all means.
Please see here for the arrangement fee.
ex.1 Arrangement for accommodation
Room charge 10,000yen(1night 1person) + Commission 1,650yen(incl. c-tax)=Total 11,650yen 
ex.2 Arrangement for additional transportation
Super express train 20,000yen(1person) + Commission 3,300yen(incl. c-tax)=Total 23,300yen 
---
/// Cancellation Policy
Cancellation Policy for above course;
| | |
| --- | --- |
| Days to Departure | Cancellation Charge |
| More than 15 days | 5% of trip price |
| 14-8 days | 50% of trip price |
| 7-2 days | 80% of trip price |
| 1 day or Less, No Show | 100% of trip price |
Please refer to "Price, Terms and Conditions" for other detailed regulations.
---
/// Application Form
Please select the course and fill in the below box;
---
/// Payment
Payment can be settled by credit card (Paypal or Stripe).
After your booking, we will send you an invoice, then after your payment by credit card, the booking would be completed.
/// Contact
If you have any questions or offer to book, please send an email. We welcome even little questions! Don't hesitate, and see you in Japan!!
Contact us:   info@i-travel-square.tokyo