N-30 Zenkoji temple & Winter Fireworks (November 23rd)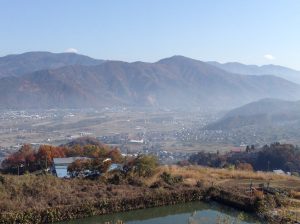 About Zenkoji temple 
The history of Zenkoji temple started in 642, when Yoshimitsu Honda enshrined a Buddhist Image at the present site.
The main image was created in India and introduced into Japan with Buddhism via Paekche in Korean Peninsula in 552. It is called "The Image of Sangoku Denrai" in Japanese.
The image has been believed to lead all the people to the Buddhist Pure Land regardless of their status, gender or creed. It has been earnestly worshipped by many people from those in power at the time to the common people.
The main image was completely hidden from the people in 654, and since then no one has ever been allowed to see it.
The temple name "Zenkoji" literally means "Yoshimitsu' s temple". It is read as "Zenkoji" by another way of reading of the Chinese characters.
History of Ebisu Fireworks
The history of fireworks in Nagano is old, and it is said that it has been flourishing since the Edo period. As one of them, a prostitute in Gondo-village (now Gondo-town) held a fireworks display as a way to invite tourists, and it was said that it was very crowded with spectators from nearby neighborhoods.
In the Taisho era, the Ebisu Fireworks Festival carefully selected fireworks masters and did not allow the participation of inexperienced people, so for fireworks masters nationwide, participation in the Ebisu Fireworks Festival in Nagano is said to be "progressive fireworks". It came to be called.
Even in today's fireworks epidemic, Nagano's Ebisu Fireworks Festival is said to be one of the leading fireworks festivals in Japan due to its excellent quality. In addition, a new fireworks contest that invites one of the best fireworks artists in Japan started in 1992, attracting fans.
A winter fireworks display that is rare in Japan. In addition to the gorgeous launch fireworks such as "Music Star Mine", a collaboration of music and fireworks, and "No. 8 ball 100 barrage oversized wide star mine", the large flower of the scale ball also colors the dignified and clear night sky of late autumn, and the fireworks critic said "Once I have to watch this fireworks display. "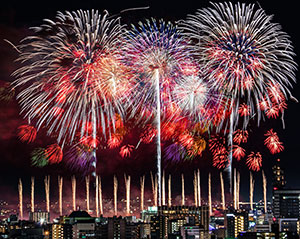 ---
/// FIT package
We can arrange this tour for individual, family, or the small group, following to your designated year, but the day is fixed only November 23rd.
/// Itinerary
14:00 Meet at JR Nagano station, then guide takes you Zenkoji temple area by bus and walking
View Points
NAIJIN of the HONDO (the inner part with TATAMI mattress)
SAN-MON gate
KYOZO (the warehouse that holds Buddhist scriptures)
NIO-MON gate
BELL TOWER
the other buildings on temple grounds
16:00 After visiting the temple, take a walk along the approach to the temple (Shopping, taking meals), then go to Nagano station by walk, take shuttle bus to fireworks place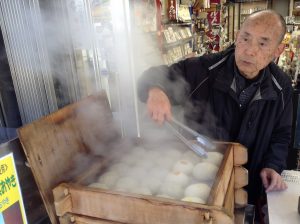 18:00-20:00 Watch the Fireworks
** You can eat light meals at the stalls near the venue
20:30 Return to Nagano station, then finish the tour.
---
/// Price
Number
of Guests
 1
2
 3
4-5
 6 or more
(Max 10)
Price 
/ person
(Yen)
 73,000
 38,000
 27,000
21,000
 22,000
Price Include:
Transportation (local bus, shuttle bus) from / to Nagano station, Zenko-ji, and fireworks place
Admission fee for Zenko-ji temple for customers and guide
English (or other languages) speaking guide
(English, Chinese, French, German, Italian, Spanish, Portuguese, Dutch, Russian, Thai)
Commission for arrangements
Commission for settlements by credit card
Consumption tax
Price Exclude:
Transportation costs to the meeting place / ending place
Accommodation costs
Food and beverage fee for customers and guide
Souvenir fee / personal expenses
Expenses for services not described in the itinerary
Regarding these standard courses, we can arrange the plan upon your request by adding / deleting destinations, and combining other courses before and after, making reservations of accommodation, transportation, restaurants, or event tickets, etc. Please contact us by all means.
Please see here for the arrangement fee.
ex.1 Arrangement for accommodation
Room charge 10,000yen(1night 1person) + Commission 1,650yen(incl. c-tax)=Total 11,650yen 
ex.2 Arrangement for additional transportation
Super express train 20,000yen(1person) + Commission 3,300yen(incl. c-tax)=Total 23,300yen 
---
/// Cancellation Policy
Cancellation Policy for this course;
| | |
| --- | --- |
| Days to Departure | Cancellation Charge |
| More than 31 days | 10,000JPY |
| 30-15 days | 50% of trip price, Min 10,000JPY |
| 14-8 days | 70% of trip price, Min 10,000JPY |
| 7 days or Less, No Show | 100% of trip price |
Please refer to "Price, Terms and Conditions" for other detailed regulations.
---
 /// Application Form
Please select the course and fill in the below box;
---
/// Payment
Payment can be settled by credit card (Paypal or Stripe).
After your booking, we will send you an invoice, then after your payment by credit card, the booking would be completed.
/// Contact
If you have any questions or offer to book, please send an email. We welcome even little questions! Don't hesitate, and see you in Japan!!
Contact us:   info@i-travel-square.tokyo