N-48 Cherry blossoms in Yoshino (April)
Mt. Yoshino–The World Heritage National Park
Mt. Yoshino is well known from old times for the best cherry blossom site in Japan.
It covers all over the mountain paths around 8 kms, from the north end to the south of Omine Renzan mountains. It is also a base of Omine spiritual mountain walk for decipliants. A path between Yoshino-Omine and Yuya is called Omine Okukudou and is still used for religious training.
The spiritual site and path in Kii, including Mt. Yoshino, was approved as one of UNESCO World Heritage. The whole Mt. Yoshino is registered as World Heritage: You can walk and visit various World Heritage Buildings including Yoshino Mikumari Shrine, Kinpu Shrine, Kinpusenji Temple and Yoshimizu Shrine.
You can also visit a variety of historical sites such as a temple of Ennogyoja, historical site of Nanchou, Yoshitsune, Saigyou and Basho.
Not only spring Cherry blossom (April), but hydrangea, autumn leaves and snowing landscape are also magnificent.
You can enjoy visiting this mountain, through the year!!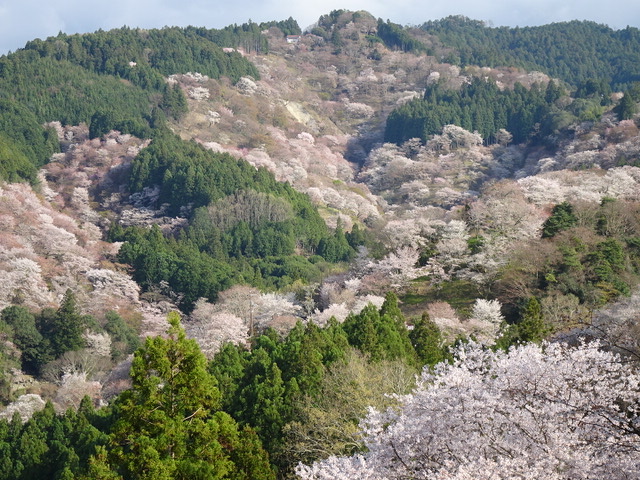 – Cherry, autumn leaves and hydrangea of Mt. Yoshino
Traditionally Mt. Yoshino had many cherry trees including around 200 different types and thirty thousand trees. Beautiful but yet fragile mountain cherry blossoms cover path to path, valley to valley and finally all over the mountain.
There are a lot of white mountain cherries around four parts, such as Shimo, Naka, Kami, and Oku area. "Senbon" is an expression that you can view a thousand cherry trees at a glance. Simo-senbon, Naka-senbon, Kami-senbon, Oku-senbon are viewed in chronological order starting from early April through late April. In this way, you can enjoy a beautiful cherry blossoms for a long period. Night cherry blossoms are also recommended.
Although Mt. Yoshino is famous for Cherry blossoms in spring, you can enjoy various different nature of other seasons, such as hydrangea and bright leaves in summer and colorful autumn leaves in autumn.
---
/// FIT package
We can arrange this tour for individual, family, or the small group, following to your designated date, through the year, especially cherry blossom season in April.
/// Itinerary
10:00 Meet at Kintetsu Yoshino station, then guide takes you these area by bus, ropeway, and walking
View Points and Route
Nyoirin-ji temple
Kinpu Jinja Shrine (Oku-Senbon) **

UNESCO heritage

Yoshitstune hidden tower (Oku-Senbon)
Saigyo monk cabin (Oku-Sembon) **Trekking
Takagi-yama viewing platform (Kami-Senbon)
Mikumari Shrine (Kami-Senbon) **

UNESCO heritage

Hana-Yagura viewing platform (Kami-Senbon)
Chikurin- in temple (Kami-Senbon)
Yoshimizu Shrine (Naka-Senbon) **

UNESCO heritage

, excellent viewing spot
Kinpusenji temple Zao hall & Nio-mon gate (Shimo-Senbon) **

UNESCO heritage

Kane-no -Torii gate (Shimo-Senbon) **

UNESCO heritage

Kuro-mon gate (Shimo-Senbon)
 You can take lunch at the local diner restaurant aside the road.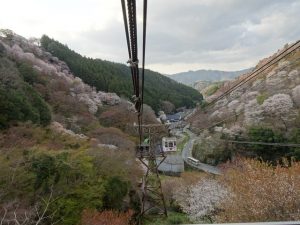 18:00 Return to Yoshino station, then finish the tour.
/// Price
Number
of Guests
 1
2
 3
4-5
 6 or more
(Max 10)
Price 
/ person
(Yen)
 82,000
 45,000
 32,000
26,000
 27,000
Price Include:
Bus and ropeway fare during the tour
Entrance fees described in the itinerary for guests and guide
English (or other languages) speaking guide
(English, Chinese, French, German, Italian, Spanish, Portuguese, Dutch, Russian, Thai)
Commission for arrangements
Commission for settlements by credit card
Consumption tax
Price Exclude:
Transportation costs to the meeting place / ending place
Accommodation costs
Food and beverage fee for customers and guide
Souvenir fee / personal expenses
Expenses for services not described in the itinerary
Regarding these standard courses, we can arrange the plan upon your request by adding / deleting destinations, and combining other courses before and after, making reservations of accommodation, transportation, restaurants, or event tickets, etc. Please contact us by all means.
Please see here for the arrangement fee.
ex.1 Arrangement for accommodation
Room charge 10,000yen(1night 1person) + Commission 1,650yen(incl. c-tax)=Total 11,650yen 
ex.2 Arrangement for additional transportation
Super express train 20,000yen(1person) + Commission 3,300yen(incl. c-tax)=Total 23,300yen 
---
/// Cancellation Policy
Cancellation Policy for this course;
| | |
| --- | --- |
| Days to Departure | Cancellation Charge |
| More than 31 days | 10,000JPY |
| 30-15 days | 50% of trip price, Min 10,000JPY |
| 14-8 days | 70% of trip price, Min 10,000JPY |
| 7 days or Less, No Show | 100% of trip price |
Please refer to "Price, Terms and Conditions" for other detailed regulations.
---
 /// Application Form
Please select the course and fill in the below box;
---
/// Payment
Payment can be settled by credit card (Paypal or Stripe).
After your booking, we will send you an invoice, then after your payment by credit card, the booking would be completed.
/// Contact
If you have any questions or offer to book, please send an email. We welcome even little questions! Don't hesitate, and see you in Japan!!
Contact us:   info@i-travel-square.tokyo