Gunkanjima Experience Tour,
transcends time and space!
What is Gunkanjima?
Hashima (Gunkanjima) is located about 40 minutes by ship from Nagasaki Port. This small island is man-made for submarine coal mining, which was reclaimed around the reef. The island is surrounded by quay walls, and the appearance of the high-rise reinforced concrete structure resembles the warship "Tosa", so it came to be called "Gunkanjima". At its peak in 1960, about 5,300 people lived there, and at that time it boasted the highest population density in Japan. The island was equipped with elementary and junior high schools, hospitals, etc., and also there are entertainment facilities such as movie theaters and pachinko halls, it seems that they could cover all of their lives on the island.
Coal from the Hashima and neighboring Takashima was of very high quality, it contributed greatly to the modernization of Japan. However, due to the shift from coal to petroleum as the main source of energy, the mine needs declined and was closed in 1974. The islanders left the island with various thoughts in their hearts and became an uninhabited island.
To keep our memory…
In 2009, it became possible for the general public to land on Gunkanjima, and now many people participate in landing tours and visit Gunkanjima.
In 2015, it was officially registered as a World Cultural Heritage by UNESCO.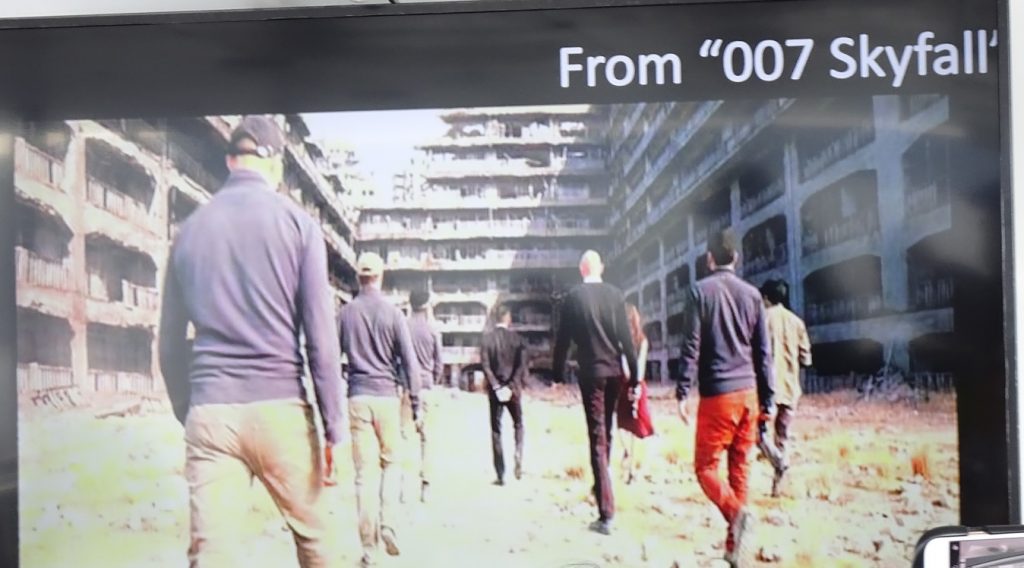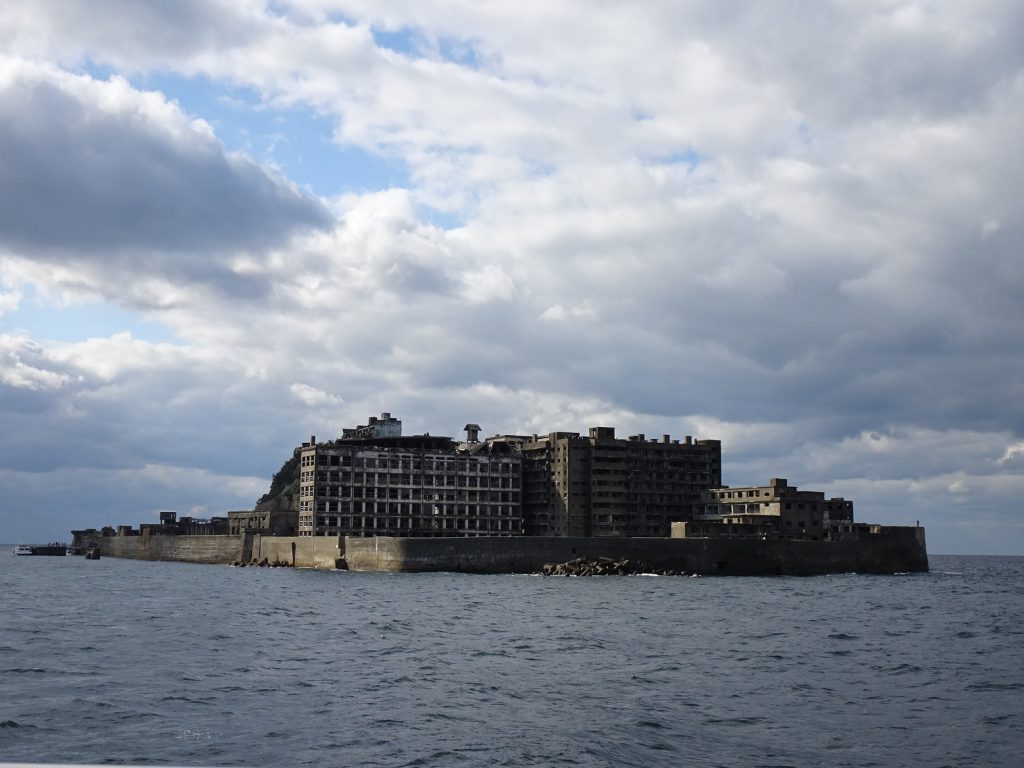 【View from the ferry】
【Landing tour】
---
/// FIT package
We can arrange this tour for individual, family, or the small group, following to your designated date, through the year.
/// Itinerary
8:30 Meet at your hotel in central Nagasaki city, then guide takes you to cruise reception (museum) by foot or taxi.
9:00-10:00 Check-in the reservation and visit museum
Guidance by former Gunkanjima inhabitants
Simulated Gunkanjima landing experience with the latest VR technology
MR HoloLens allows you to play games while walking around the museum
10:30-13:15 Cruise (non-reserved seat) and Landing tour
**If you wish to take reserved seat, need additional charge depending on seat class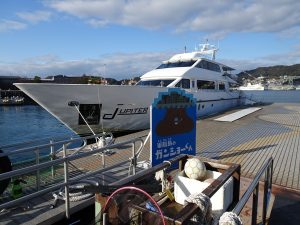 On the way to / from the island, the ferry staff explain the history and the scenery that can be seen from the ship
13:30 Return the cruise terminal, then finish the tour.
**guide shows you the way or transportation to your desired place.
**Possible to guide around area at the same price until 16:30
for example…
Nagasaki Atomic Bomb Museum
Ōura Church
Glover Garden
Nagasaki Shinchi Chinatown
/// Price
Number
of Guests
 1
2
 3
4-5
 6 or more
(Max 10)
Price 
/ person
(Yen)
 71,000
 40,000
 30,000
25,000
 26,000
Price Include:
Cruise and landing tour fare
Entrance fees of Gunkanjima Digital Museum
Taxi fare from your hotel (central Nagasaki city) to cruise reception place
English (or other languages) speaking guide
(English, Chinese, French, German, Italian, Spanish, Portuguese, Dutch, Russian, Thai)
Commission for arrangements
Commission for settlements by credit card
Consumption tax
Price Exclude:
Transportation costs to the meeting place / ending place
Accommodation costs
Food and beverage fee
Souvenir fee / personal expenses
Expenses for services not described in the itinerary
---
---
/// Additional arrangement
Regarding these standard courses, we can arrange the plan upon your request by adding / deleting destinations, and combining other courses before and after, making reservations of accommodation, transportation, restaurants, or event tickets, etc. Please contact us by all means.
Please see here for the arrangement fee.
ex.1 Arrangement for accommodation
Room charge 10,000yen(1night 1person) + Commission 1,650yen(incl. c-tax)=Total 11,650yen 
ex.2 Arrangement for additional transportation
Super express train 20,000yen(1person) + Commission 3,300yen(incl. c-tax)=Total 23,300yen 
---
/// Cancellation Policy
Cancellation Policy for above course;
| | |
| --- | --- |
| Days to Departure | Cancellation Charge |
| More than 15 days | 5% of trip price |
| 14-8 days | 50% of trip price |
| 7-2 days | 80% of trip price |
| 1 day or Less, No Show | 100% of trip price |
Please refer to "Price, Terms and Conditions" for other detailed regulations.
---
/// Application Form
Please select the course and fill in the below box;
---
/// Payment
Payment can be settled by credit card (Paypal or Stripe).
After your booking, we will send you an invoice, then after your payment by credit card, the booking would be completed.
/// Contact
If you have any questions or offer to book, please send an email. We welcome even little questions! Don't hesitate, and see you in Japan!!
Contact us:   info@i-travel-square.tokyo