The place where God and Buddha met!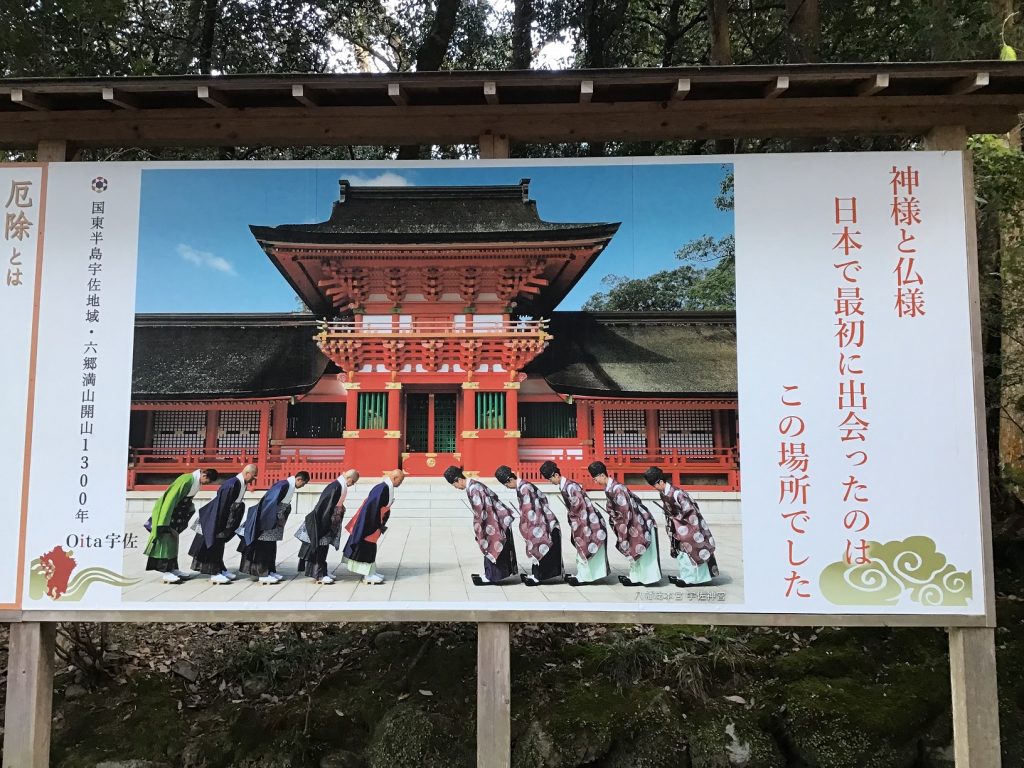 Synthesis of Shinto and Buddhism
Gods (deity) used to exist in Japan. There were gods in nature, and there were gods in the court.
In our history, Buddhism was introduced to Japan in the middle of the 6th century, the Buddha was also welcomed as one of the ancient Japanese gods.
Shintoism, the belief in the gods that originally existed in Japan, and Buddhism, which came from abroad, are combined into one religious concept known as "Shinbutsu-shugo" (synthesis of Shinto and Buddhism), which began in the Nara period.
Usa-jingu shrine
Usa-jingu Shrine in Oita Prefecture is the head shrine of the 40,000 Hachimangu shrines in Japan.
This shrine is said to be one of the birthplaces of synthesis of Shinto and Buddhism.
Usa-jingu has been reverenced as a guardian deity by Imperial family and its prestige is considered second to Ise-jingu; Usa-jingu supported the construction of the Daibutsu (great statue of Buddha) at Todai-ji in Nara by carrying there the spirit of Hachiman with Mikoshi (portable shrine) and also received a divine message regarding the enthronement of Emperor.
The era of syncretization of Shinto and Buddhism that lasted for more than 1000 years came to an end with the abolition of Buddhism in the Meiji period, but the footprints of that long history are still alive in Usa-jingu and its surrounding areas.
Usa Hachiman (Jingu) Shrine Oracle Incident
In 769, the monk Dokyo, who was favored by Empress Shotoku at the time and often intervened in politics, conspired to become next emperor and he made his subordinates tell lie that Usa-jingu Shrine had given him a message that "If Dokyo is enthroned, the country will be safe." 
The emperor, who deeply worshiped Usa-jingu, immediately dispatched a bureaucrat, Wake no Kiyomaro, to find out the truth.
Kiyomaro arrived at Usa-jingu Shrine about 10 days after leaving the capital, and received the following oracle.
"Since ancient times, Japan has established an emperor from the imperial family. Eliminate stranger (Dokyo) immediately!"
Therefore, he made two copies of the Grand Oracle, one of which he entrusted to the shrine, and the other of which is for report his Majesty, returning to the capital and reporting to the Imperial Palace.
When Emperor Shotoku passed away the following year, Dokyo was banished and died in 772.
Emperor Konin took the place of the childless Emperor Shotoku.
In this way, the divine virtue of protecting the national polity of Usa-jingu Shrine and the sincerity of Kiyomaro came to protect the imperial family.
Kiyomaro is enshrined at Goo Shrine, the last shrine of this shrine.
Highlights of the Kunisaki Peninsula and neighboring area
The Kunisaki Peninsula, a circular peninsula protruding into the Suo Sea, was the place where the Buddhist culture called "Rokugo Manzan**" flourished from the Nara period to the Heian period. Even now, the ruins are scattered all over the peninsula.
There are many stone structures represented by the Kumano Magaibutsu carved into the cliffs, and you can also see a unique stone pagoda called the Kunisaki Pagoda.
**"Rokugo Manzan" is the unique culture of this region (Kunisaki) of the syncretism of Shinto and Buddhism.
In the neighboring city of Nakatsu, there are many scenic spots such as Yabakei, which was selected as one of the New Three Views of Japan. In the town area, another highlight is Nakatsu Castle, which was built by Kanbei Kuroda, a master of castle construction.
If you have time, why not stay overnight and explore neighboring area?
We can offer you several plans such as starting from Oita Airport, staying on trains that have been discontinued, and of course staying in hot springs, so please feel free to contact us!
---
/// FIT package
We can arrange this tour for individual, family, or the small group, following to your designated date, through the year.
/// Itinerary
9:30 / 13:00 Meet with guide at JR Usa station, then go to Usa-jingu Shrine by taxi.
Visit Usa-jingu Shrine.
There are many subordinate shrines in the precincts, including the main shrine, which is a national treasure.
13:30 / 17:00 Return to Usa station by taxi, then finish the tour.
---
/// Price
Number
of Guests
 1
2
 3
4-5
 6 or more
(Max 10)
Price 
/ person
(Yen)
 48,000
 24,000
 16,000
13,000
 12,000
Price Include:
Taxi fare between Usa station and Usa-Jingu Shrine 
English (or other languages) speaking guide
(English, Chinese, French, German, Italian, Spanish, Portuguese, Dutch, Russian, Thai)
Commission for arrangements
Commission for settlements by credit card
Consumption tax
Price Exclude:
Entrance fee of Treasure museum
Transportation costs to the meeting place / ending place
Accommodation costs
Food and beverage fee
Souvenir fee / personal expenses
Expenses for services not described in the itinerary
---
---
/// Additional arrangement
Regarding these standard courses, we can arrange the plan upon your request by adding / deleting destinations, and combining other courses before and after, making reservations of accommodation, transportation, restaurants, or event tickets, etc. Please contact us by all means.
Please see here for the arrangement fee.
ex.1 Arrangement for accommodation
Room charge 10,000yen(1night 1person) + Commission 1,650yen(incl. c-tax)=Total 11,650yen 
ex.2 Arrangement for additional transportation
Super express train 20,000yen(1person) + Commission 3,300yen(incl. c-tax)=Total 23,300yen 
---
/// Cancellation Policy
Cancellation Policy for above course;
| | |
| --- | --- |
| Days to Departure | Cancellation Charge |
| More than 15 days | 5% of trip price |
| 14-8 days | 50% of trip price |
| 7-2 days | 80% of trip price |
| 1 day or Less, No Show | 100% of trip price |
Please refer to "Price, Terms and Conditions" for other detailed regulations.
---
/// Application Form
Please select the course and fill in the below box;
---
/// Payment
Payment can be settled by credit card (Paypal or Stripe).
After your booking, we will send you an invoice, then after your payment by credit card, the booking would be completed.
/// Contact
If you have any questions or offer to book, please send an email. We welcome even little questions! Don't hesitate, and see you in Japan!!
Contact us:   info@i-travel-square.tokyo