S-75 Mt. Fuji Climbing (July 10 – September 10)
Challenge climbing Mt. Fuji!!
Japan's Mt. Fuji is an active volcano about 100 kilometers southwest of Tokyo. Commonly called "Fuji-san," it's the country's tallest peak, at 3,776 meters. A pilgrimage site for centuries, it's considered one of Japan's 3 sacred mountains, and summit hikes remain a popular activity. Its iconic profile is the subject of numerous works of art, notably Edo Period prints by Hokusai and Hiroshige.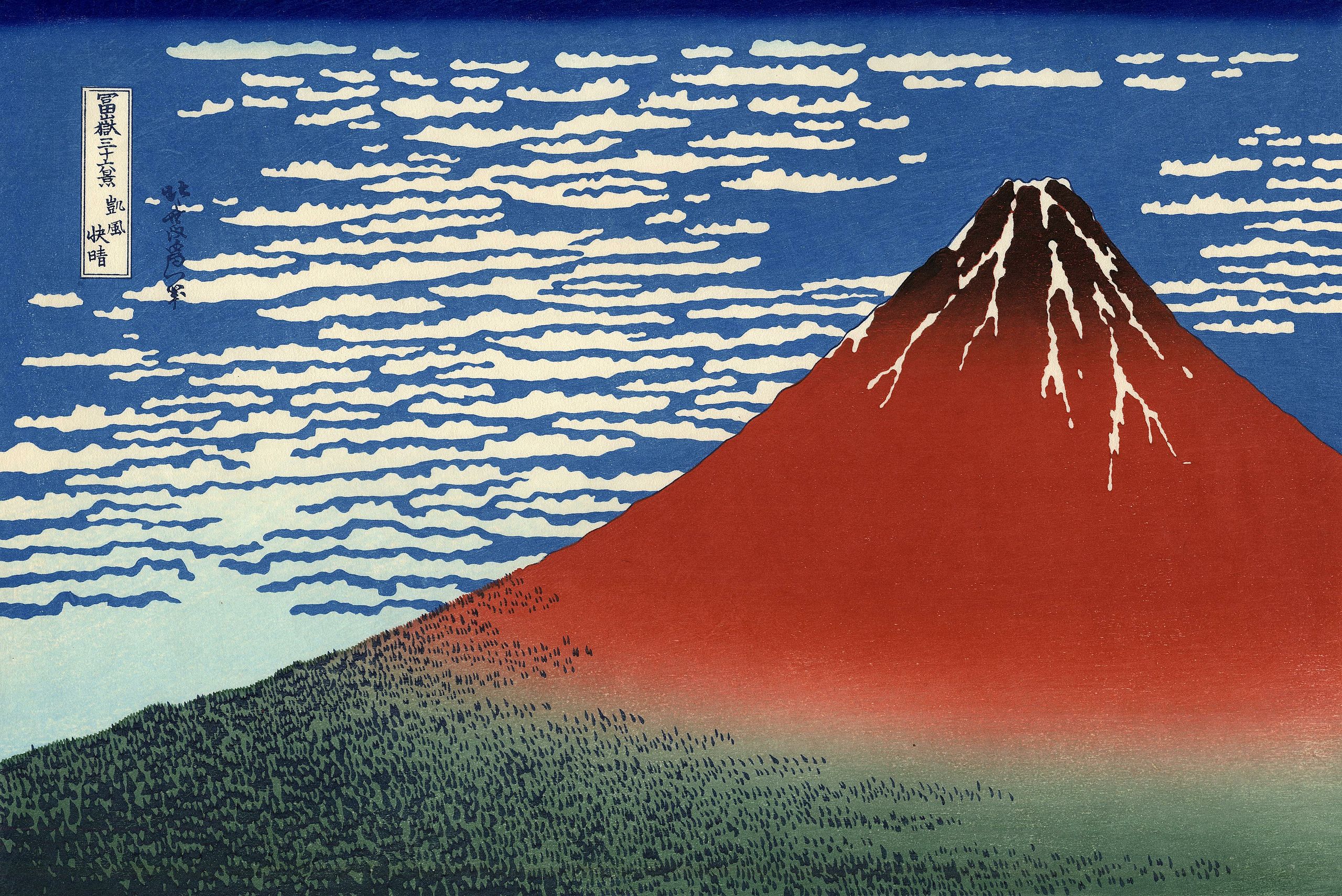 Registered as a UNESCO World Heritage Site in 2013, visiting people are getting more and more, and many people challenge to climb Mt. Fuji.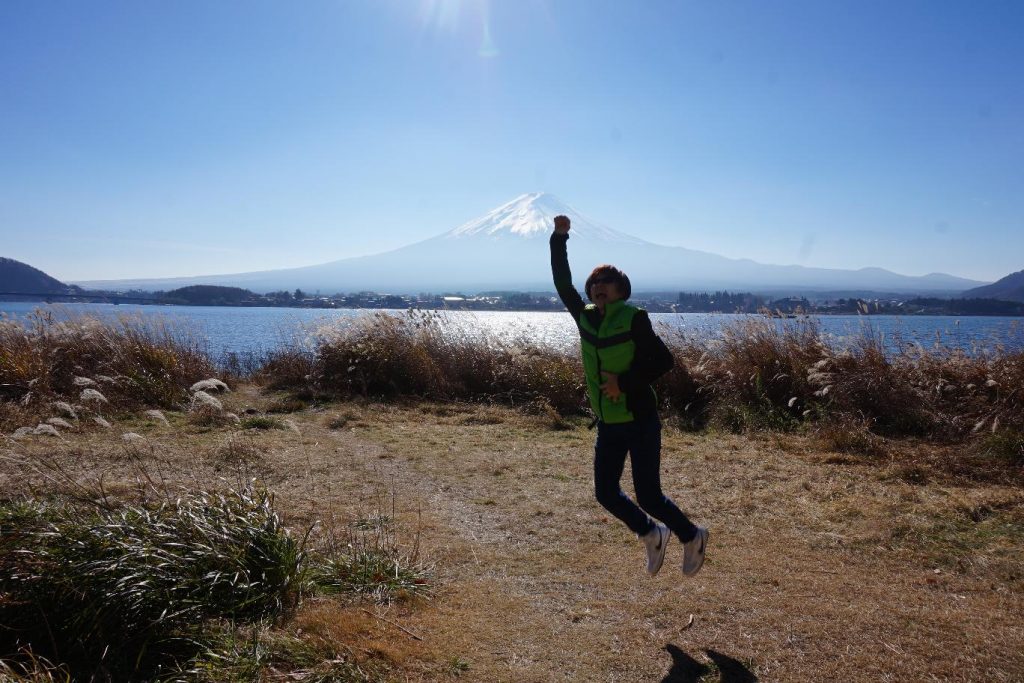 We will arrange a tour with a mountaineering guide specializing in Mt. Fuji. You can climb it by yourself, but if you climb it with the guidance of an expert, it will be safer and the success rate of climbing the summit will be much higher.
We recommend the "Subashiri Route".
In addition, the number of group members is limited to 4 people except for the guide.
The Subashiri route is valid from July 10th to September 10th every year, which is a very short and valuable two months.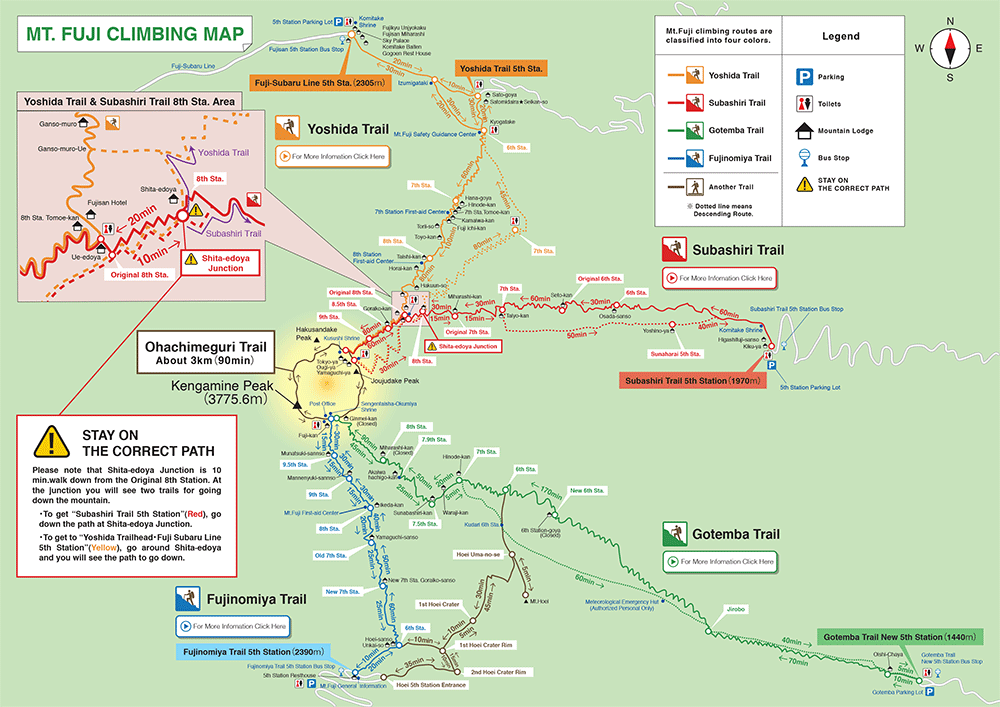 Our mountain guide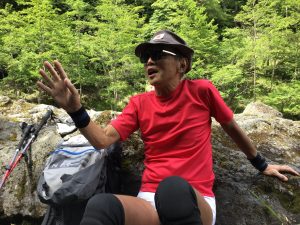 Climbing mountain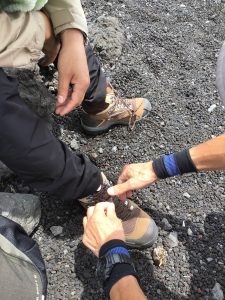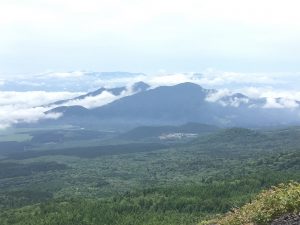 Flowers on the trail
Ref. Hiking course in the woods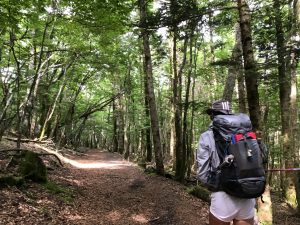 ---
/// FIT package
We can arrange this tour for individual, family, or the small group (less than 4 people), following to your designated date, from July 10 to September 10.
/// Itinerary
1st day
7:30 Meet at JR Gotemba station, then guide takes you to Starting point (Subashiri Trail 5th Station) by car.
8:00 Start climbing (about 8 hours).
16:00 Arrive at the top of Mt. Fuji, check-in and stay the mountain hut (lodge). Have a simple dinner, and go to bed early.
** After late August to September, stay the hut at 6th or 7th Station.
2nd day
Before 5:00 am Get up and watch the sunrise.
6:00 After simple breakfast (if you can eat, additional order), check-out the hat, start down the mountain.
** If you wish, you can also visit the pots (around the crater).
14:00 Arrive at Subashiri Trail 5th Station, then take you to Gotemba station by car, finish the tour.(around 15:00)
---
/// Note
Mt. Fuji has higher than 3,000m in altitude, you should be properly equipped, so that you can cope with a sudden weather change or unexpected delay in descending the mountain.
Wear warm clothes and trekking shoes
Recommend take about 2 or more  liters of water (available for purchase at mountain huts, but very expensive), and meals (for lunch) and snacks easy to eat
Don't make a noise in the hut, and go to bed early
Keep the regulation and the rules
Please read here and get more information concerning to climbing Mt. Fuji.
---
/// Price
Number
of Guests
 1
2
 3
4
Price 
/ person
(Yen)
 71,000
 43,000
 34,000
29,000
Price Include:
Pick-up Car from / to Gotemba st. – Subashiri 5th Station
Mountain guide
(Simple English conversation is possible)
Accommodation (Mountain Hut) with simple dinner
**Breakfast is extra order depend on your health condition
Commission for arrangements
Commission for settlements by credit card
Consumption tax
Price Exclude:
Transportation costs to the meeting place / ending place
Food and beverage fee for customers
Souvenir fee / personal expenses
Expenses for services not described in the itinerary
Regarding these standard courses, we can arrange the plan upon your request by adding / deleting destinations, and combining other courses before and after, making reservations of accommodation, transportation, restaurants, or event tickets, etc. Please contact us by all means.
Please see here for the arrangement fee.
ex.1 Arrangement for accommodation
Room charge 10,000yen(1night 1person) + Commission 1,650yen(incl. c-tax)=Total 11,650yen 
ex.2 Arrangement for additional transportation
Super express train 20,000yen(1person) + Commission 3,300yen(incl. c-tax)=Total 23,300yen 
---
/// Cancellation Policy
Cancellation Policy for this course;
| | |
| --- | --- |
| Days to Departure | Cancellation Charge |
| More than 31 days | 10,000JPY |
| 30-15 days | 50% of trip price, Min 10,000JPY |
| 14-8 days | 70% of trip price, Min 10,000JPY |
| 7 days or Less, No Show | 100% of trip price |
Please refer to "Price, Terms and Conditions" for other detailed regulations.
---
 /// Application Form
Please select the course and fill in the below box;
---
/// Payment
Payment can be settled by credit card (Paypal or Stripe).
After your booking, we will send you an invoice, then after your payment by credit card, the booking would be completed.
/// Contact
If you have any questions or offer to book, please send an email. We welcome even little questions! Don't hesitate, and see you in Japan!!
Contact us:   info@i-travel-square.tokyo