T-36 "Gokayama" old traditional style house in mountain area & Old townscape in western Toyama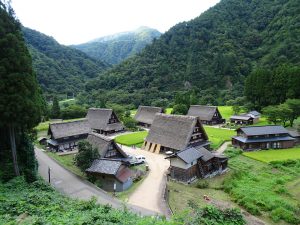 Local Treasures in Toyama
Toyama prefecture is blessed with delicious rice and abundant of seafood, and having lots of traditional culture and story.
Because only a few people visit there yet, Toyama prefecture is one of the best destination for "Hipster early adopters"!!
Why not enjoy and explore the full of historical sites and breathtaking views?
---
Gokayama (UNESCO Heritage)
Gokayama area is designated as the World Heritage like Shirakawa-Go, houses with steep rafter roof in Gifu Prefecture. Since it is called rarely-visited regions surrounded with steep and high mountains, this area still maintain the antiquity views and unique culture including houses with steep rafter roof.
Let's walk around the village with Gassho-Zukuri, and enjoy local food such as edible wild plants and grilled mountain trout. We actually stay at Gassho-Zukuri (house with steep rafter roof).
Western Toyama
Johana: Johana Hikiyama (Parade Float) Festival is designated as the Important Intangible Folk Culture Property. Visit the Hikiyama Kaikan to watch decorated float and also see a video tape of that festival.
Inami: Inami Sculpture is famous for Ranma or decorative transom. Visit the craft center and Zuisen-ji Temple, which is the biggest wooden architecture in the Hokuriku (Northern Part of Japan) area with 600 years history.
Takaoka: Visit one of the three biggest Buddha in Japan, and explore the cast metal town, Kanaya-machi, is designated as the Conservation District of Traditional Buildings. Drop local sake shops to buy delicious local Japanese sake wine including shadowy famous "Kachikoma",which is junmai daiginjo, only polished rice, malted rice, and water are used as raw material.
---
/// FIT package
We can arrange this tour for individual, family, or the small group, following to your designated date, through the year.
/// Itinerary
9:00 Meet at Takaoka station, then guide takes you by chartered car to Gokayama. 
Look around Gokayama area, take lunch.
View Points: ●Gokayama Minzoku Kan (Gokayama Folk Museum), ●Ensho-no-Yakata (Gunpowder Museum), ●Gokayama Seikatsu-Kan (Livelihood Museum), ●Iwase Family, ●Itoku-kan at Gyotoku-Temple, ●Kago-no-Watashi (since there is no bridge over the river, a basket is suspended on the rope which are tied between two banks of the river and they transport small things in a basket), ●Gassho-Ohashi (big bridge), ●Osayo-Tsuka (grave)
13:00 Move to Johana, Inami, Takaoka, look around each area with guide.
Visit following places;
Johana: ●Hikiyama Kaikan, ●Zentoku-ji temple, ●Imamachi street
Inami: ●Zuisen-ji temple, ●Yokamachi street, ●Wood carving composite hall (trial experience of wood carving)
Takaoka: ●Buddha statue, ●Kanayamachi street, ●local Sake shop
18:00 Arrive at Takaoka station, then finish the tour.
---
/// Price
Number
of Guests
 1
2
 3
4-5
 6 or more
(Max 10)
Price 
/ person
(Yen)
 192,000
 100,000
 70,000
54,000
 49,000
Price Include:
Chartered car
English (or other languages) speaking guide
(English, Chinese, French, German, Italian, Spanish, Portuguese, Dutch, Russian, Thai)
Entrance fees described in the itinerary for guests and guide
Wood carving trial fee for guests
Commission for arrangements
Commission for settlements by credit card
Consumption tax
Price Exclude:
Transportation costs to the meeting place / ending place
Accommodation costs

Food and beverage

fee for customers and guide
Souvenir fee / personal expenses
Expenses for services not described in the itinerary
Regarding these standard courses, we can arrange the plan upon your request by adding / deleting destinations, and combining other courses before and after, making reservations of accommodation, transportation, restaurants, or event tickets, etc. Please contact us by all means.
Please see here for the arrangement fee.
ex.1 Arrangement for accommodation
Room charge 10,000yen(1night 1person) + Commission 1,650yen(incl. c-tax)=Total 11,650yen 
ex.2 Arrangement for additional transportation
Super express train 20,000yen(1person) + Commission 3,300yen(incl. c-tax)=Total 23,300yen 
---
/// Cancellation Policy
Cancellation Policy for this course;
| | |
| --- | --- |
| Days to Departure | Cancellation Charge |
| More than 31 days | 10,000JPY |
| 30-15 days | 50% of trip price, Min 10,000JPY |
| 14-8 days | 70% of trip price, Min 10,000JPY |
| 7 days or Less, No Show | 100% of trip price |
Please refer to "Price, Terms and Conditions" for other detailed regulations.
---
 /// Application Form
Please select the course and fill in the below box;
---
/// Payment
Payment can be settled by credit card (Paypal or Stripe).
After your booking, we will send you an invoice, then after your payment by credit card, the booking would be completed.
/// Contact
If you have any questions or offer to book, please send an email. We welcome even little questions! Don't hesitate, and see you in Japan!!
Contact us:   info@i-travel-square.tokyo