T-77 Tokyo downtown walking
Enjoy traditional temple ceremony
and beautiful stone garden!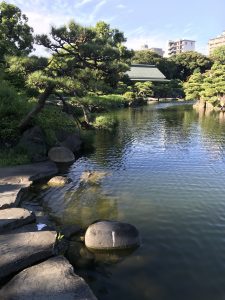 /// Highlights ///
Fukagawa

(Monzennakacho) is located near the central business district of Tokyo, yet has a laid-back downtown atmosphere that is different from the bustle of Asakusa. At

Naritasan Fukagawa Fudo Hall

, you can participate in a

gomadaki ceremony

, which is a rare experience for visitors. It is said to change your luck. There are also many sculptures and paintings to see in the temple grounds. Be sure to see the gorgeous portable shrine at

Tomioka Hachiman Shrine

.

Kiyosumi Garden

is one of the most beautiful gardens in Tokyo and is also known as a museum of

scenic stones

. Yataro Iwasaki, founder of Mitsubishi Zaibatsu, a successful shipping company in the Meiji era, collected famous stones from all over Japan on his steamship. The garden is reasonably sized, so please take your time to cross the rocky shore (isowatari)and appreciate the scenery, birds, turtles, etc.
If you wish, you can see the

3.5-meter-high King Enma

, one of the largest in Japan, who judges the sins of the dead during their lifetime, before taking a stroll in the garden. 19 prayers are marked separately with a money-offering slot, and if you put money into the prayer of your choice, various sermons by the Buddha will be played on the screen. When you put your money in the box for the prayer of your choice, various sermons of Buddha will be played on the audio system. (in Japanese).
After a stroll through the garden, take a break for a cup of fine coffee. We will take you to a nice café nearby. The first Blue Bottle Coffee in Japan is also nearby and I can arrange for you to stop by.
---
/// FIT package
We can arrange this tour for individual, family, or the small group, following to your designated date, through the year.
/// Itinerary
12:30 Meet at Monzennakacho Station on the Oedo Line,  then guide takes you Fukagawa Fudoson by walking, while explaining in detail. 
Fukagawa Fudoson

(attend goma prayer)

Tomioka Hachiman

after a guided tour of the temple grounds
Then, take a train to Kiyosumi Garden.
If you wish to visit Hojoin Temple where King Enma resides, we will take you to the garden on foot.
After that, we will take a walk to see the stores nearby and enjoy a cup of coffee at a nice café.
Instead of stopping at a café, you may choose to visit any of the following spots upon request (guided tour)
Fukagawa Edo Museum

Cat and Owl Cafe Anjyu
17:00 At a place of your choice in the area, finish the tour. 
** If you would like to visit the Museum of Contemporary Art Tokyo afterwards, we can take you there. (No guide) Advance reservations for the museum are accepted. (Admission fee varies depending on the exhibition)
/// Add-ons & Description ///
This is a private tour.

Various places to visit upon your request.

Hiromi, Fukagawa guide


A local guide who knows this area well will guide you.
*See our guide "Hiromi".
Her voice;
" I look forward to seeing you on the tour. I will spare no effort to bring this fascinating experience to you!"
When a typhoon or a heavy rain warning are issued, the tour may be cancelled.
---
/// Price
Number
of Guests
 1
2
 3
4
Price  / person (Yen)
 36,000
 21,500
 15,500
12,500
Price Include:
English (or other languages) speaking guide
Entrance fees for guests and guide
(Kiyosumi Garden and Fukagawa Edo Museum)
Train fare from Tomioka Hachiman to Kiyosumi Garden
Coffee at café
Commission for arrangements
Commission for settlements by credit card
Consumption tax
Price Exclude:
Transportation costs to the meeting place / ending place
Accommodation costs
Food and beverage fee for customers and guide except one cup of coffee
Souvenir fee / personal expenses
Expenses for services not described in the itinerary
Regarding these standard courses, we can arrange the plan upon your request by adding / deleting destinations, and combining other courses before and after, making reservations of accommodation, transportation, restaurants, or event tickets, etc. Please contact us by all means.
Please see here for the arrangement fee.
ex.1 Arrangement for accommodation
Room charge 10,000yen(1night 1person) + Commission 1,650yen(incl. c-tax)=Total 11,650yen 
ex.2 Arrangement for additional transportation
Super express train 20,000yen(1person) + Commission 3,300yen(incl. c-tax)=Total 23,300yen 
---
/// Cancellation Policy
Cancellation Policy for this course;
| | |
| --- | --- |
| Days to Departure | Cancellation Charge |
| More than 31 days | 10,000JPY |
| 30-15 days | 50% of trip price, Min 10,000JPY |
| 14-8 days | 70% of trip price, Min 10,000JPY |
| 7 days or Less, No Show | 100% of trip price |
Please refer to "Price, Terms and Conditions" for other detailed regulations.
---
 /// Application Form
Please select the course and fill in the below box;
---
/// Payment
Payment can be settled by credit card (Paypal or Stripe).
After your booking, we will send you an invoice, then after your payment by credit card, the booking would be completed.
/// Contact
If you have any questions or offer to book, please send an email. We welcome even little questions! Don't hesitate, and see you in Japan!!
Contact us:   info@i-travel-square.tokyo