T-35 "Kaze-no-bon" Traditional dance festival (September)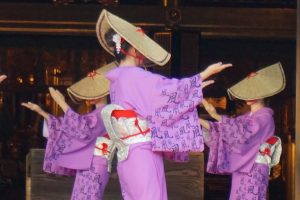 Local festival in Toyama
Toyama prefecture is blessed with delicious rice and abundant of seafood.
It is one of the best seasons to visit Toyama prefecture now, because only a few people visit there.
Why not enjoy and explore the full of historical sites and breathtaking views?
---
Owara Kaze no Bon / Bon Dance of the Wind
Kaze-no Bon or Bon Dance of the Wind is held from September 1 to 3 in every year and its origin dated back to 1702. Two hundred fifty thousand people from all over Japan visit this small town, even though whose population is only twenty thousand in Ecchu Yatsuo, to enjoy this Bon Dance of the Wind. It is not enthusiastic festival such as Awa-Dance in Tokushima, but it has a little different character. There are three ways of dancing to exemplify the subtle and profound. One is women's dance wearing "yukata" and woven hats deeply, and dance forward quietly with accompanying soulful Chinese fiddles and "Owara" lyrics. The second is men's dance with rising their feet higher and forward bravely. And the last is men and womens' dance together with delicacy.
Almost all Japanese festivals started to celebrate farmers' good harvest. This festival is held the same time of many typhoons come and they hit Japan around this time of the year. From ancient days, festivals were held to wish for a good harvest to protect ripe rice from strong wind of typhoon. That festival is said to be called "Kaze-no bon" (Bon Dance with the Wind) which is a folk ballad event and still be uphold in the special area from generation to generation.
It is really impressive that the local people dance with their pride.
---
/// FIT package
We can arrange this tour for individual, family, or the small group, following to your designated date, during September 1-3 every year.
/// Itinerary
16:00 Meet at Toyama station, then guide takes you by local train from Toyama to Ecchu Yatsuo, arrive at festival place. 
Until midnight, you can enjoy watching the festival, in that local people dance through the town with quiet music.
You can eat the meals at food stalls or local shop in the town.
23:00 Walk to Ecchu Yatsuo station, take local train (be careful; you don't miss the last train!), to Toyama station.
24:00 Arrive at Toyama station, then finish the tour.
---
/// Price
Number
of Guests
 1
2
 3
 4 or more
(Max 10)
Price 
/ person
(Yen)
 69,000
 35,000
 24,000
 20,000
Price Include:
Return transportation between Toyama station and Ecchu Yatsuo station
English (or other languages) speaking guide
(English, Chinese, French, German, Italian, Spanish, Portuguese, Dutch, Russian, Thai)
Transportation for guide
Commission for arrangements
Commission for settlements by credit card
Consumption tax
Price Exclude:
Transportation costs to the meeting place / ending place
Accommodation costs

Food and beverage

fee for customers and guide
Souvenir fee / personal expenses
Expenses for services not described in the itinerary
Regarding these standard courses, we can arrange the plan upon your request by adding / deleting destinations, and combining other courses before and after, making reservations of accommodation, transportation, restaurants, or event tickets, etc. Please contact us by all means.
Please see here for the arrangement fee.
ex.1 Arrangement for accommodation
Room charge 10,000yen(1night 1person) + Commission 1,650yen(incl. c-tax)=Total 11,650yen 
ex.2 Arrangement for additional transportation
Super express train 20,000yen(1person) + Commission 3,300yen(incl. c-tax)=Total 23,300yen 
---
/// Cancellation Policy
Cancellation Policy for this course;
| | |
| --- | --- |
| Days to Departure | Cancellation Charge |
| More than 31 days | 10,000JPY |
| 30-15 days | 50% of trip price, Min 10,000JPY |
| 14-8 days | 70% of trip price, Min 10,000JPY |
| 7 days or Less, No Show | 100% of trip price |
Please refer to "Price, Terms and Conditions" for other detailed regulations.
---
 /// Application Form
Please select the course and fill in the below box;
---
/// Payment
Payment can be settled by credit card (Paypal or Stripe).
After your booking, we will send you an invoice, then after your payment by credit card, the booking would be completed.
/// Contact
If you have any questions or offer to book, please send an email. We welcome even little questions! Don't hesitate, and see you in Japan!!
Contact us:   info@i-travel-square.tokyo