Course 3: 

Treasures of the sea
that created Japanese culture; Hokkaido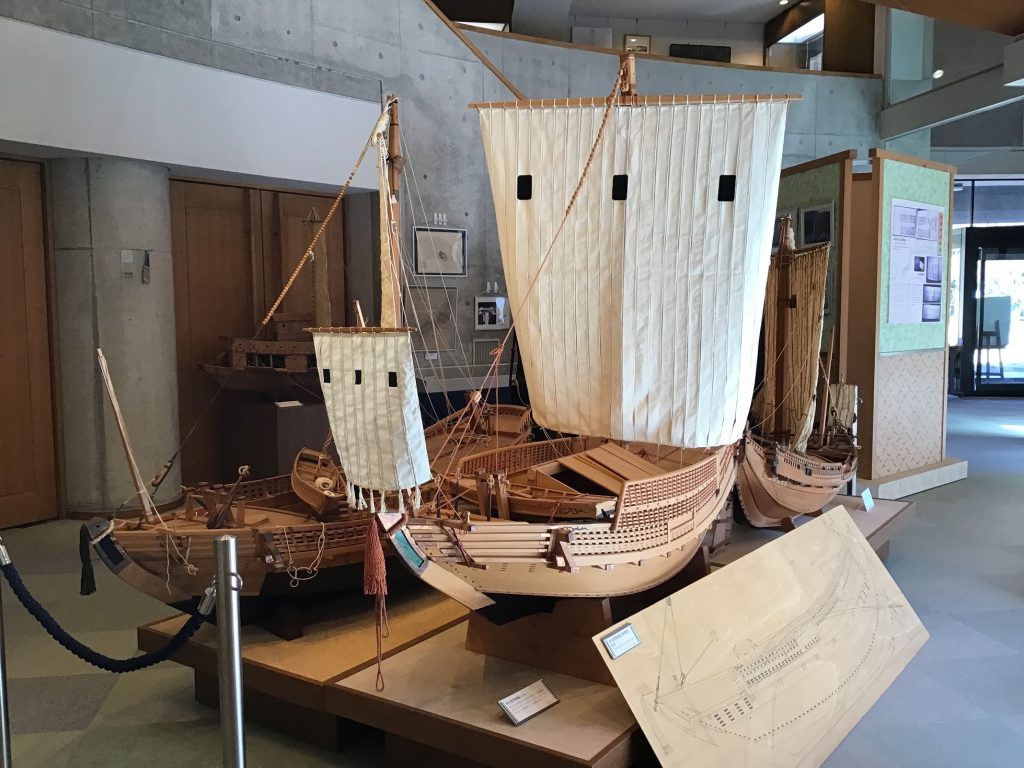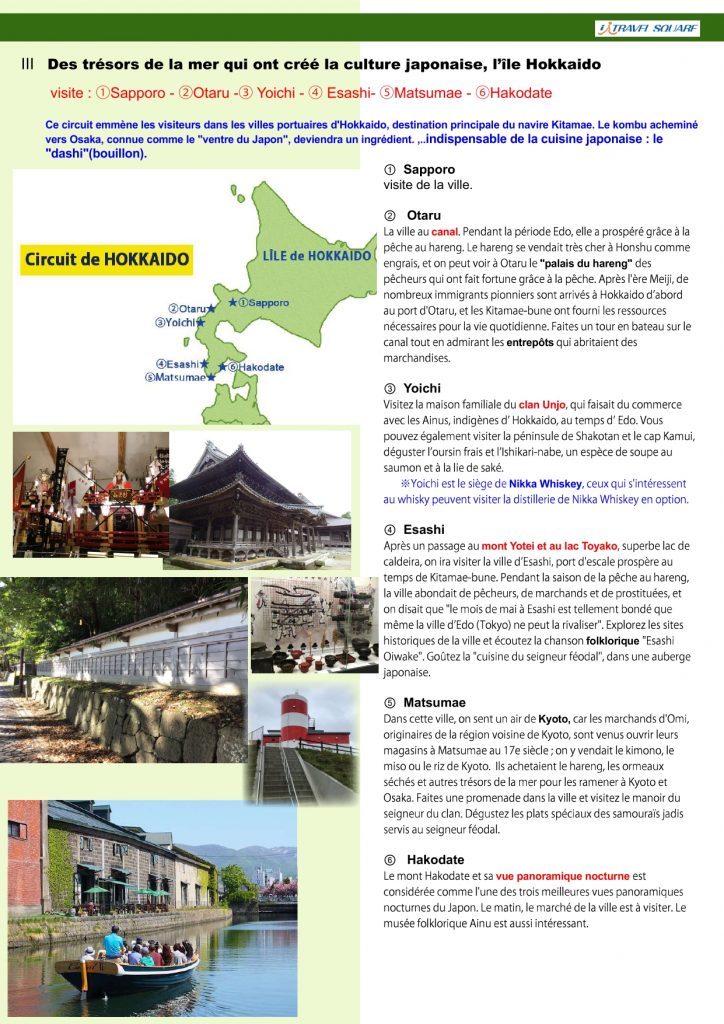 /// Introduction
Kitamae-bune were ships that was active from the mid-Edo period to the Meiji period. They carried goods to various places mainly along the Sea of Japan side of the route connecting Hokkaido and Osaka. Thanks to them, products from various regions were delivered to other regions, utilized those goods, and culture and performing arts flourished in various regions.
If we trace the roots of food culture, festivals, traditional performing arts, traditional crafts, etc. in various parts of Japan today, there are many that came from Kyoto and Kamigata (Osaka) on the Kitamae-bune. In addition, many of the roof tiles and stone materials used in old townscapes, shrines, and temples were transported as ballast on Kitamae-bune ships.
Why not embark on a journey to discover the connection between Kitamae-bune and Japanese culture that lives today?
Our tours interweave various themes related to Kitamae-bune, and also combine wonderful spots other than Kitamae-bune, making it a very meaningful and luxurious trip.
The tour can be as it is, or we can arrange the number of days and places to visit according to your wishes.
We can also arrange hotel classes and transportation upon your request.
Kyoto and Tokyo (Edo) are loved by foreigners.
"Kitamae-bune" shows what was transmitted from there, what supported there, and the connection between them.
Let's take this opportunity to learn about "Kitamae-bune" as you learn more about Japan!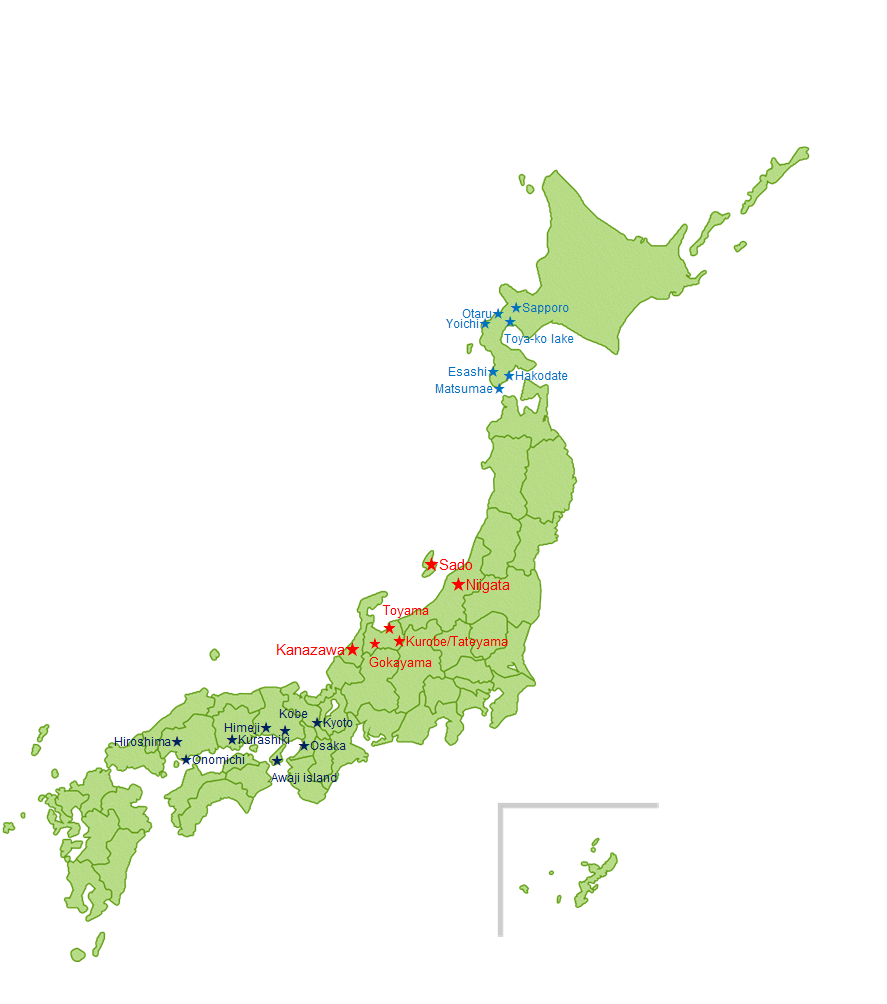 /// FIT package
We can arrange this tour for individual, family, or the small group, following to your designated date, through the year.
/// Itinerary
Day
Visiting Places


**the items in blue are related to the Kitamae-bune

Stay
1

Meet with guide at Shin Chitose airport(CTS), then move to Sapporo
After hotel check-in, free time
**If you wish, possible to take a walk through Odori Park at night.

Clock House

Odori Park

Christmas Market

Sapporo
2

Sapporo
Sightseeing in and around Sapporo City

Sapporo
3
Move to Otaru

Hiyoriyama Lighthouse

Herring Palace

Old Aoyama villa

Otaru Warehouse Group

Canal Cruise

Otaru developed due to the herring fishing that began in the late Edo period and the maintenance of the port after the Meiji period. When Ezo was renamed Hokkaido and the Kaitakushi (development ministry) was established, immigrants from all over the country surged in population. The Kitamae-bune took on a new role of transporting the goods that supported their lives. Kitamae-bune owners advanced to Otaru one after another, and developed new businesses such as the establishment of sales warehouses.

Hiyoriyama Lighthouse

Old Aoyama Villa

Canal Cruise

Otaru
4

Move to

Yoichi

Fishing Ground

Old Shimo-Yoichi Base of Trading Post

**If you wish, possible to visit Nikka Whisky brewery.

Move to Kamui Cape, walk to the edge

From Yoichi Port, Shakotan's abundant seafood was transported to Hokuriku and Osaka on Kitamae-bune ships. Unjoya, which was a business base of merchants who undertook trade with the Ainu people by Matsumae clan, and the fishing grounds of the buildings where herring fishing was carried out are important heritages that cannot be seen in Honshu (mainland in Japan).

base of trading post

inside of fishing ground

Kamui Cape

Then, back to Otaru

Otaru
5
Move to

Esashi


On the way, stop by

Mt. Yotei

and

Lake Toya

, take a walk
Esashi
6
Esashi

Old Nakamura Family Residence

Watch a demonstrationEsashi-Oiwake (folk song)

Kamome Island

Great Ubagami Shrine

Kamome Island prospered as a port of call for Kitamae-bune ships, with perfect geographical conditions as a natural breakwater and windbreak wall. In addition, boats docked at Esashi, which is bustling with herring fishing, merchants also appear, and prostitutes and entertainers also came across from the other place. It was so crowded that people said that "May in Esashi is not even in Edo (**Esashi was much busier than Tokyo)."
Esashi Oiwake, which has been sung in this area for generations, also traveled north from far away Shinshu (Nagano) via the Sea of Japan, and took root in this northern land.

Esashi Oiwake Hall

Ubagami festival car

Then, move to Matsumae

Matsumae
7

Matsumae

Matsumae castle

Teramachi old temple street

Matsumae Domain Residence

Matsumae was one of the trading ports in Hokkaido (Ezo) managed by the Matsumae clan, which was only one clan in Hokkaido. In spring, Matsumae is flooded with so many herrings that it changes the color of the sea. In the 17th century, Omi (Shiga) merchants, who opened shops in Matsumae, brought Matsumae's herring, kelp, dried abalone, etc. to Kyoto and Osaka, and instead carried kimono, rice, miso, etc. to Matsumae to trade. In addition, the culture of Kyoto and the garden trees of temples (blood vein cherry trees, etc.) were also brought.

temple street

temples

blood vein cherry trees

Then, move to Hakodate
On the way, stop at Shirakami Cape, overlook Aomori on the opposite sea bank
After reaching Hakodate, go to watch the night view at Mt. Hakodate

Shirakami cape

night view of Mt. Hakodate

Hakodate
8
 Hakodate

Morning market

Goryokaku (five-sided fortification)

Hakodate port, Kanamori warehouse group

Mr. Takataya Kahei statue

North Folk Museum

Hakodate, where was one of the trading ports of the Matsumae clan, changed completely under the direct control of the shogunate in eastern Ezo (current Hokkaido). When products from the Ainu trade were distributed via Hakodate port, the arrival of Kitamae-bune ships increased rapidly. The urban development promoted by the magistrate of Hakodate accelerated with the addition of the wealth of the Kitamae-bune. This key person was Mr. Takadaya Kahei from Awaji Island. **refer to course 1, day 7

warehouse group

Goryokaku

North folk museum

Mr. Takataya Kahei statue in front of Mt. Hakodate

Hakodate
9
 Send off to Hakodate Airport (HKD) or Shin-Hakodate Hokuto station, then finish the tour
 
UNESCO World Heritage: 
None in this course
The theme of Kitamae-bune:
Port of call and townscape: Otaru, Yoichi, Esashi, Matsumae, Hakodate
Building and house: Herring Palace, Old Aoyama villa, Otaru Warehouse Group, Fishing Ground, Old Shimo-Yoichi Base of Trading Post, Old Nakamura Family Residence, Matsumae Domain Residence, Goryokaku (five-sided fortification)
Ships, routes and port facilities: Hiyoriyama (Otaru, Kamome Island, Mt. Hakodate), Canal Cruise, Shirakami Cape


**"Hiyoriyama" is located in near most of ports, and was used by sailors to see the weather (predict the weather) when they decide to sail. A direction stone (compass) made of granite was often placed there, and one or a few trees such as pine trees were growing on the summit, which served as a landmark from afar from the sea.

Faith: Kamui Cape, Kamome Island, Great Ubagami Shrine
History: Mr. Takataya Kahei statue
Goods which was carried: 
Culture which was communicated: Esashi Oiwake (folk song), Great Ubagami Shrine Festival (based from Gion Festival in Kyoto), Feudal Lord Cuisine
Museum: North Folk Museum
---
/// Price and Booking
The price of this course will change depending on the participation date, desired hotel class, desired transportation, additional changes to the course, etc.
First of all, please send us your desired visit date and details from the application described below.
Our staff in charge will contact you, decide the customized course while consulting and confirming with you, and present you the price clearly.
After your agreement to this contents, the formal booking will be made.
/// Cancellation Policy
Cancellation Policy for this course after formal bookings;
| | |
| --- | --- |
| Days to Departure | Cancellation Charge |
| More than 31 days | 10,000JPY |
| 30-15 days | 50% of trip price, Min 10,000JPY |
| 14-8 days | 70% of trip price, Min 10,000JPY |
| 7 days or Less, No Show | 100% of trip price |
Please refer to "Price, Terms and Conditions" for other detailed regulations.
/// Application Form
Please select the course and fill in the below box;
/// Payment
Payment can be settled by credit card (Paypal or Stripe).
After your booking, we will send you an invoice, then after your payment by credit card, the booking would be completed.
---
/// Contact
If you have any questions or offer to book, please send an email. We welcome even little questions! Don't hesitate, and see you in Japan!!
Contact us:   info@i-travel-square.tokyo