I-85 Pottery Town Kasama One Day Excursion
Kasama in Ibaraki Prefecture is one of the pottery towns that we can easily access from Tokyo.  It takes about 1.5 hours from Tokyo by express train or by car and is the perfect place for a day excursion for nature and pottery lovers.
---
Kasama town is surrounded by mountains in all directions and has very rich nature.  Kasama is famous with pottery, Kasama ware, which has the oldest history in the Kanto region.  It is derived from Shigaraki ware, one of the six ancient kilns, originated in the 18th century and developed under the patronage of the Kasama domain.  Today, Kasama city supports artists from all over Japan and the world and gathers many artists to the town.  There is no specific style for Kasama ware, the style varies.  They are not only table wares, but also pottery arts.  There are many galleries and studios where you see the variety of pottery and even can talk with the potters/artists.  Please enjoy the nature, art, tradition, and modern in Kasama.
Kasama Forest of Arts Park ― In the huge park, there is a museum, a craft hill (shop and cafe), a pottery art forest, an event square, a playing field, etc.   We will visit the museum to learn the history of Kasama ware, then walk through the forest of art to enjoy artworks spotted in the forest.  It is a very unique space where nature and potteries mingle and show harmony.  Then we will also stop by the craft hill adjacent to the museum, and see many artworks created by the artists from Kasama.  You can also observe the great work of the living national treasure, Matsui Kosei.
Kasama Inari Shrine – Kasama Inari shrine is one of the three main Inari shrines in Japan.  The shrine was founded in year 650 under the walnut tree.  The walnut tree, the origin of the shrine is in the precincts.  The main hall was built in the 19th century and the sculptures on the wall are magnificent.  The shrine is also famous for wisteria in May and the chrysanthemum festival in October / November.
Shumpu Banriso  – It is the annex of Nichido Museum, the main museum in Kasama.  In this museum, there is a Japanese old house, an old gate, and a spacious garden.  The old house was used as an atelier of Kitaoji Rosanjin, the great multitalented artist in the early 20th century.  He was engaged in calligraphy, pottery, painting, and gourmet and more.  The Japanese garden which was designed by Rosanjin, the western room and bathroom whose interior and furniture were created by Rosanjin are must-see.  You can also enjoy the beautiful garden with seasonal trees and flowers.  From the place the gate is located, the entire view of the garden can be observed.   It is a great place to feel tranquility and relaxation.
Gallery road – The final spot you will visit is some shops, galleries of pottery products, and ateliers owned by artists.  You can enjoy looking at the various works and buy your favorite tableware or artworks.
---
/// FIT package ///
We can arrange this tour for individual, family, or the small group, following to your designated date, through the year.
/// Itinerary ///
9:00  Meet at your hotel or station (Tokyo or Ueno station)
9:30  Take the train to Tomobe station.
10:50  Start from Tomobe by local bus and walking. The starting point of the journey to Kasama. 
Kasama forest of arts park
Kasama Inari Shrine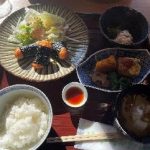 You can take lunch at the local diner restaurant around this area,
enjoy delicious food from local production with Kasama potteries.
Shumpu Banriso
Pottery road
16:30  Back to Tomobe station, take train back to Tokyo
18:00   Finish the tour at Ueno or Tokyo station.
---
/// Add-ons & Description ///
This is a private tour.



If you are fit enough, there is an option to use

rental bicycle

from Tomobe station.

Arrangement the chartered taxi or bus is possible with additional cost

instead of using public transportation.
The itinerary can be

flexible depending on your interests

(more to focus on pottery or more on town explore).
If you are interested in

pottery experience

by hand or potter's wheel (separate cost), I can take you to the place, but the shipment of the finished work takes time and cost.

Sachimi, Kasama guide


A local guide who knows this area well will guide you.
*See our guide "Sachimi", who is specialist of Kasama!

When a typhoon or a heavy rain warning are issued, the tour may be cancelled.
---
/// Price
Number
of Guests
 1
2
 3
4-5
 6 or more
(Max 10)
Price  / person (Yen)
 83,000
 43,000
 29,000
23,000
 26,000
Price Include:
English (or other languages) speaking guide
Entrance fees for guests and guide
Commission for arrangements
Commission for settlements by credit card
Consumption tax
Price Exclude:
Transportation costs to the meeting place / ending place
Transportation from / to Tokyo (or Ueno) – Tomobe station
Local bus or taxi during sightseeing
Accommodation costs
Lunch for guests
Food and beverage fee for customers and guide
Souvenir fee / personal expenses
Expenses for services not described in the itinerary
Regarding these standard courses, we can arrange the plan upon your request by adding / deleting destinations, and combining other courses before and after, making reservations of accommodation, transportation, restaurants, or event tickets, etc. Please contact us by all means.
Please see here for the arrangement fee.
ex.1 Arrangement for accommodation
Room charge 10,000yen(1night 1person) + Commission 1,650yen(incl. c-tax)=Total 11,650yen 
ex.2 Arrangement for additional transportation
Super express train 20,000yen(1person) + Commission 3,300yen(incl. c-tax)=Total 23,300yen 
---
/// Cancellation Policy
Cancellation Policy for this course;
| | |
| --- | --- |
| Days to Departure | Cancellation Charge |
| More than 31 days | 10,000JPY |
| 30-15 days | 50% of trip price, Min 10,000JPY |
| 14-8 days | 70% of trip price, Min 10,000JPY |
| 7 days or Less, No Show | 100% of trip price |
Please refer to "Price, Terms and Conditions" for other detailed regulations.
---
 /// Application Form
Please select the course and fill in the below box;
---
/// Payment
Payment can be settled by credit card (Paypal or Stripe).
After your booking, we will send you an invoice, then after your payment by credit card, the booking would be completed.
/// Contact
If you have any questions or offer to book, please send an email. We welcome even little questions! Don't hesitate, and see you in Japan!!
Contact us:   info@i-travel-square.tokyo