Let's ride a bike and find new worlds!
We can provide one of pioneers to offer E-bike (Electric assist bicycle) trekking tour of scenic mountainous roads in Japanese nature.  E-bike trekking is much easier and safer than normal trekking by foot.  While you slowly keep on pedaling, you can enjoy viewing magnificent scenery of Japanese mountain area. Do not worry about running of battery because B-Ike's E-bike has high performance battery capable to climb up long and high mountainous roads for a day tour.  On downhill, the E-bike speed can be easily kept low by advanced regenerative brake of its front wheel, which should assure your safety tour.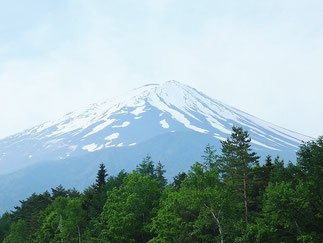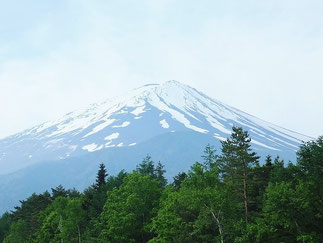 This is bike trekking tour running on mountain road, called Fuji Subaru Line, between its base and the 5th station, the highest point of the road.  View of magnificent Mt. Fuji closer to you, downward view of the virgin forest and the Fuji Five Lakes, and far view of Southern Japanese Alps are highlights of this tour.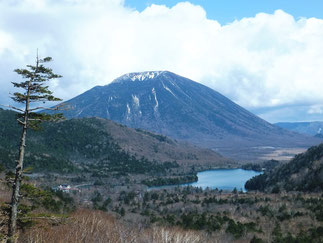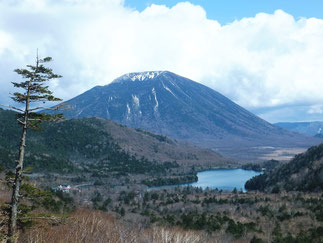 Highland area behind historic Nikko downtown is called Oku-Nikko, or deep Nikko where beauties of nature attract the visitors through four seasons.  This is bike trekking tour to visit various view points in Oku-Nikko like Lake Chuzenji, the highest large lake in Japan and Konsei Pass, the highest point of the road in the Nikko National Park.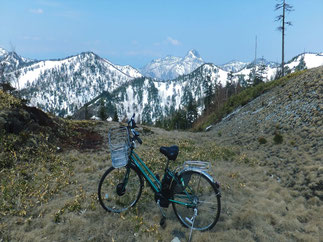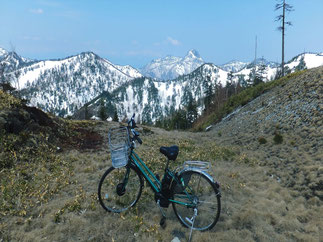 This is bike trekking tour between Kusatsu Hot Spa area and Shibu Pass of Kusatsu Oku-Shiga Road, which is the highest point among all Japanese National Roads.   The road runs along the watershed of Honsyu, Japanese Main Land and the visitors can be attracted with superb view of the giant backbone or steep mountain line.
Outline of Mountain Road Bike Tours
How about trekking on mountain roads by E-bike?  Unlike bike race called "hill-climb", which must be tough sports, Our trekking tour with E-bike is not competition, but is light exercise because of strong power assist by its high-tech motor and battery system of E-bike.
Features of E-bike Tour are:
* Powerful battery to climb up slope of relative height of more than 1,000 meters
* Regenerative brake system of front wheel to keep low speed on downhill
* Adjustable loading on foot with 5 step shift gear, depending on slope condition
ID#
Tour Name
Bile Riding Time and Distance (Note 1)
Places of Meeting (Note 2)
Place of Distersing
Highest Elevation & Relative Height
Season of Tour Avairable
Y-34
Mt.Fuji

4hr30min

57.0km

JR Otsuki Station
same as meeting place

2,305m

1,433m

end of March to end of November
T-24
Oku-Nikko

2hr50min

39.2km

JR Nikko Station or

Tobu Nikko Station

same as meeting place

1,840m

570m

late April to end of November
G-26
Kusatsu

3hr30min

35.9km

JR Naganohara-Kusatuguchi Staion
same as meeting place

2,172m

932m

late April to end of November
Note 1: Bike riding time is estimated, based on trial test.
---
/// Price
Number of Guests 
 1
2
 3
(Max)
Price  /
person (Yen)
Y-34
T-24
G-26
 101,000
 41,000
 30,000
Price Include:
Rental of Electric Assist Bicycle
Route guide service (English)
Commission for arrangements
Commission for settlements by credit card
Consumption tax
Price Exclude:
Transportation costs to the meeting place / ending place
Accommodation costs
Food and beverage fee for customers and guide
Entrance admission to tour facilities
Payment to toll road for bike
Souvenir fee / personal expenses
Expenses for services not described in the itinerary
Regarding these standard courses, we can arrange the plan upon your request by adding / deleting destinations, and combining other courses before and after, making reservations of accommodation, transportation, restaurants, or event tickets, etc. Please contact us by all means.
Please see here for the arrangement fee.
ex.1 Arrangement for accommodation
Room charge 10,000yen(1night 1person) + Commission 1,650yen(incl. c-tax)=Total 11,650yen 
ex.2 Arrangement for additional transportation
Super express train 20,000yen(1person) + Commission 3,300yen(incl. c-tax)=Total 23,300yen 
---
/// Cancellation Policy
Cancellation Policy for above course;
| | |
| --- | --- |
| Days to Departure | Cancellation Charge |
| More than 15 days | 5% of trip price |
| 14-8 days | 50% of trip price |
| 7-2 days | 80% of trip price |
| 1 day or Less, No Show | 100% of trip price |
Please refer to "Price, Terms and Conditions" for other detailed regulations.
---
/// Application Form
Please select the course and fill in the below box;
---
/// Payment
Payment can be settled by credit card (Paypal or Stripe).
After your booking, we will send you an invoice, then after your payment by credit card, the booking would be completed.
/// Contact
If you have any questions or offer to book, please send an email. We welcome even little questions! Don't hesitate, and see you in Japan!!
Contact us:   info@i-travel-square.tokyo