N-29 Narai-juku & Old post town in Kiso-ji
The Beautiful Kiso Road;
Narai-juku historic post town
"Juku" means historic post town (station),  has become the base of the highway. The name "Juku" has been used since the end of the Heian period, but it is a village that developed along with the development of highways during the Edo period.
The post town had the role of letting travelers stay and rest in the inn, but the most important role is to carry official luggage and correspondence carried from the previous post town to the next post town.  For this reason, the post towns are mainly accommodation facilities and wholesale stores that carry out transfer operations.
During the Edo period (1603-1868), the Nakasen-do highway was one of the main routes linking Edo (the old name of Tokyo) and Kyoto.
The eleven local villages from Niekawa-juku to Magome-juku on the route called KISOJI (Kiso Road) are well-known sightseeing spots.
Particularly in Narai-juku, the view of the old street in the area has been maintained, and the houses and buildings have unique local techniques, are historical and academic value.
Fukushima-juku historic post town
Fukushima-juku prospered as a castle town of the lord Kiso during the Sengoku period, and as a camp town of Kiso officer Yamamura during the Edo period.
In addition, the Fukushima Sekisho (=barrier), one of the four major checkpoints, was established, so it was developed as a large-scale post town.
Visit these small villages in the mountains and feel the atmosphere of old Japan!
---
/// FIT package
We can arrange this tour for individual, family, or the small group, following to your designated date, through the year.
/// Itinerary
9:30 Meet at JR Kiso-Fukushima station, then guide takes you to Fukushima post town by walk.
 Ueno-dan old town scape
Fukushima Barrier Museum
Kozenji temple
Yamamura Officer Residence
You can take lunch at the local diner restaurant around this area.
*recommend to eat "soba" noodle, traditional meal.
13:00 Take a train to Narai station, then look around Narai post town by walk.
Daihoji temple
The Tezuka Family Residence (Kamitoiya Museum)
Nakamura's Residence
Narakawa Museum of History and Folk Customs
16:40 Return to Narai station, then finish the tour.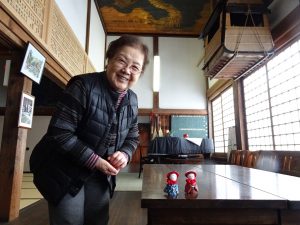 ---
/// Price
Number
of Guests
 1
2
 3
4-5
 6 or more
(Max 8)
Price 
/ person
(Yen)
 76,000
 40,000
 28,000
22,000
 23,000
Price Include:
Train from Kiso-Fukushima st. to Narai st.
English (or other languages) speaking guide
(English, Chinese, French, German, Italian, Spanish, Portuguese, Dutch, Russian, Thai)
Entrance fees described in the itinerary for guests and guide
Commission for arrangements
Commission for settlements by credit card
Consumption tax
Price Exclude:
Transportation costs to the meeting place / ending place
Accommodation costs
Food and beverage fee for customers and guide
Souvenir fee / personal expenses
Expenses for services not described in the itinerary
Regarding these standard courses, we can arrange the plan upon your request by adding / deleting destinations, and combining other courses before and after, making reservations of accommodation, transportation, restaurants, or event tickets, etc. Please contact us by all means.
Please see here for the arrangement fee.
ex.1 Arrangement for accommodation
Room charge 10,000yen(1night 1person) + Commission 1,650yen(incl. c-tax)=Total 11,650yen 
ex.2 Arrangement for additional transportation
Super express train 20,000yen(1person) + Commission 3,300yen(incl. c-tax)=Total 23,300yen 
/// Suggestion of Additional Trip from Matsumoto city
N-32 Castle town tour in Matsumoto
N-30 Zenkoji temple & Winter Fireworks (November)
Utsukushigahara Highland
From the plateau at an altitude of 2000 meters, you can enjoy a 360-degree panorama overlooking the Northern Alps, the Southern Alps Mountain Range, and Mt. Fuji.
In particular, the natural landscape where you can see the seasonal changes of the Northern Alps far above the clouds is as spectacular as the "Observatory of the Alps".
Note: Except only limited summer season, you can't go by public transport. If you wish to visit, please contact us at any time.
---
/// Cancellation Policy
Cancellation Policy for this course;
| | |
| --- | --- |
| Days to Departure | Cancellation Charge |
| More than 31 days | 10,000JPY |
| 30-15 days | 50% of trip price, Min 10,000JPY |
| 14-8 days | 70% of trip price, Min 10,000JPY |
| 7 days or Less, No Show | 100% of trip price |
Please refer to "Price, Terms and Conditions" for other detailed regulations.
---
 /// Application Form
Please select the course and fill in the below box;
---
/// Payment
Payment can be settled by credit card (Paypal or Stripe).
After your booking, we will send you an invoice, then after your payment by credit card, the booking would be completed.
/// Contact
If you have any questions or offer to book, please send an email. We welcome even little questions! Don't hesitate, and see you in Japan!!
Contact us:   info@i-travel-square.tokyo