N-32 Castle town tour in Matsumoto
Matsumoto Castle
Starting from Fukashi Castle which was built during the Eisho period of the Warring States period, Matsumoto Castle has become a National Treasure as the oldest extant five structure/six story castle in Japan. Its contrasting black and white, against the shining Japanese Alps makes for splendid scenery.
There are only 12 existing castles in Japan. Among them only Matsumoto Castle and Himeji Castle are five-floor castles. it means you can see the five-floor castles in these two places only.
Fukashi Shrine
The guardian shrine in the southern part of Matsumoto.
Fukashi Jinja (shrine) was founded in 1339. In those days, Lord Ogasawara Sadamune, a renowned warlord, who kept guard over the country Shinano, blessed Takeminakata no Mikoto (Kami of war) for having won the battle and enshrined the Kami. Later, the descendants of Lord Ogasawara deified Sugawara no Michizane as Kami of learning, together with Takeminakata no Mikoto, and revered the two Kami as the guardian deities for literary and military arts.
Fukashi is the old name of Matsumoto. Fukashi Jinja is located southeast of Matsumoto Castle, so the two Kami were worshipped as guardian deities for the castle and towns around it.
Now, the two Kami have been adored by the people in this district as guardian deities, and moreover they have been worshipped by many people who set their hearts on learning or sporting on account of the graces of the two deities.
The annual festival is held on the 24th and 25th of July.
Nakamachi Street
Warehouse with earthen walls Like the landscape dating back to the Nakamachi Street. The town which has a simplistic style of black and white gives people the peace of mind and reminisce. This simplicity perhaps makes people feel the warmth. The hall of warehouse "Nakamachi Kurasic Hall" is the main center of the Kuranomachi and Nakamachi. Takasago Street, the road south of Nakamachi Street, has many doll shops and people can enjoy the charming character of the town by walk.
Nawate Street
A long moat like a rope located between two water, Minami main moat and Metoba River, the name of the Street became Nawate. The street remains of the castle environs during the Edo era. You will see and enjoy over 50 shops with examples of a traditional toy shop, antique shops, traditional candy shops, restaurants.
Metoba River
Metoba river forms part of the most as a defensive barrier to Matsumoto castle. The river divides a town of the town people in the south and the samurai residence area in the north.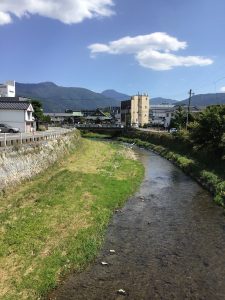 Yoikana Sake Brewery
Using abundant pure spring water from our well, "Metoba-no-Izumi", selected brewing rice and brewer's traditional skill; our special products, "Yoikana" and "Metoba-no-Izumi"have been brewed in a cooler brewery in the mountain region.
Pouring brewers' heart and soul into sake brewing, their sake has been well-received as fine local sake by both locals and visitors.
Former Kaichi School
On May 6, 1873, the former Kaichi School opened the Chikuma Prefectural School as an elementary school under the school system, and the building of Zenkyuin, which was abandoned due to the abolition of Buddha, was opened as a temporary school building.
The school building, which is a pseudo-Western-style building that symbolizes the era of civilization, was designed and constructed by Kiyoshige Tateishi, a local carpenter, and has more than 30 classroom buildings in addition to the existing school building. It was a large-scale school that was said to be.
The school building has been evaluated as one of Japan's leading school buildings since that time, with photographs of the school building being exhibited at the World's Fair in New Orleans, USA in 1897 and at the World's Fair in Chicago, USA in 2013. 
The school building was designated as a national treasure for the first time as a modern school building in 2019.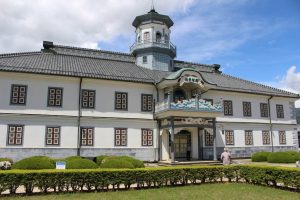 ---
/// FIT package
We can arrange this tour for individual, family, or the small group, following to your designated date, through the year.
/// Itinerary
9:30 Meet at JR Matsumoto station, then guide takes you to Matsumoto town by walk.
 Fukashi Shrine
Genchi's well (pure spring water)
Nakamachi Street
Nawate Street
Yohashira Shrine
City Museum
You can take lunch at the local diner restaurant around this area.
13:00 Visit Matsumoto Castle.
View Points:
●黒門 Kuro-mon, ●本丸御殿跡 Honmaru Goten Ruins,
●大天守 Dai-Tenshu, ●月見櫓 Tsukimi Yagura,
●埋橋 Uzume Bridge, etc.
15:30 Visit Former Kaichi School and The Takahashi Family Residence.
17:00 Visit Yoikana sake brewery aside the Metoba river, tasting and shopping.
18:30 Return to Matsumoto station or your designated place around the station, then finish the tour.
---
/// Price
Number
of Guests
 1
2
 3
4-5
 6 or more
(Max 8)
Price 
/ person
(Yen)
 76,000
 39,000
 27,000
21,000
 25,000
Price Include:
English (or other languages) speaking guide
(English, Chinese, French, German, Italian, Spanish, Portuguese, Dutch, Russian, Thai)
Entrance fees described in the itinerary for guests and guide
Sake brewery tasting
Commission for arrangements
Commission for settlements by credit card
Consumption tax
Price Exclude:
Transportation costs to the meeting place / ending place
Accommodation costs
Food and beverage fee for customers and guide
Souvenir fee / personal expenses
Expenses for services not described in the itinerary
Regarding these standard courses, we can arrange the plan upon your request by adding / deleting destinations, and combining other courses before and after, making reservations of accommodation, transportation, restaurants, or event tickets, etc. Please contact us by all means.
Please see here for the arrangement fee.
ex.1 Arrangement for accommodation
Room charge 10,000yen(1night 1person) + Commission 1,650yen(incl. c-tax)=Total 11,650yen 
ex.2 Arrangement for additional transportation
Super express train 20,000yen(1person) + Commission 3,300yen(incl. c-tax)=Total 23,300yen 
/// Suggestion of Additional Trip from Matsumoto city
N-29 Narai-juku & Old post town in Kiso-ji
N-30 Zenkoji temple & Winter Fireworks (November)
Utsukushigahara Highland
From the plateau at an altitude of 2000 meters, you can enjoy a 360-degree panorama overlooking the Northern Alps, the Southern Alps Mountain Range, and Mt. Fuji.
In particular, the natural landscape where you can see the seasonal changes of the Northern Alps far above the clouds is as spectacular as the "Observatory of the Alps".
Note: Except only limited summer season, you can't go by public transport. If you wish to visit, please contact us at any time.
---
/// Cancellation Policy
Cancellation Policy for this course;
| | |
| --- | --- |
| Days to Departure | Cancellation Charge |
| More than 31 days | 10,000JPY |
| 30-15 days | 50% of trip price, Min 10,000JPY |
| 14-8 days | 70% of trip price, Min 10,000JPY |
| 7 days or Less, No Show | 100% of trip price |
Please refer to "Price, Terms and Conditions" for other detailed regulations.
---
 /// Application Form
Please select the course and fill in the below box;
---
/// Payment
Payment can be settled by credit card (Paypal or Stripe).
After your booking, we will send you an invoice, then after your payment by credit card, the booking would be completed.
/// Contact
If you have any questions or offer to book, please send an email. We welcome even little questions! Don't hesitate, and see you in Japan!!
Contact us:   info@i-travel-square.tokyo